Campbellsville University breaks ground on new facility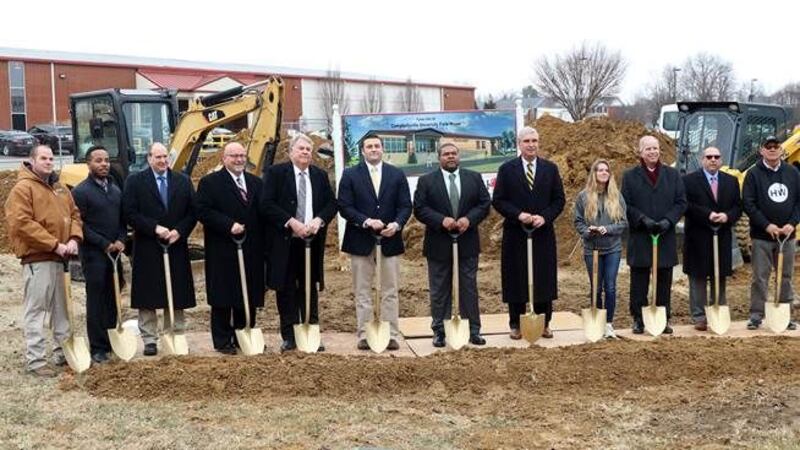 Published: Feb. 7, 2018 at 10:43 PM CST
|
Updated: Feb. 8, 2018 at 11:09 AM CST

KENTUCKY (KFVS) - On February 6, 2018, ground was broken on a new state-of-the-art athletic facility at the campus of Campbellsville University.
"This is a historic day for Campbellsville University athletics," said Vice President for Athletics Rusty Hollingsworth. "Not since the 1960s when J.K. Powell Athletic Center was built has the athletic department at Campbellsville had such a project that we broke ground on today. Not only is it the largest facility, but it will be the largest athletic campaign we will be working on in the history of the program.
The new facility should be just under 24,000 square feet. The new two-story fieldhouse will be located on the corner of Tiger Way and Chandler Street across from the Hawkins Athletic Center. The fieldhouse will be the new home for men's and women's soccer and Fighting Tiger football. It will feature locker rooms for all three sports, coaches' offices, administration offices, new and improved Hall of Fame room, the Big Maroon Club, conference rooms and a new spirit shop with official athletics apparel.
The cost of the fieldhouse, which is the first addition since the wrestling facility was opened in fall 2016, is estimated around $3.5 million. The project is expected to take 10-12 months, meaning the facility will open in spring 2019.
The former H&W  Ronnie Hord Athletic Fieldhouse was dedicated to former Tiger and longtime supporter Ronnie Hord, former owner of H&W Sport Shop in Campbellsville, Ky. Hord started a partnership with CU in 1969 and H&W Sport Shop has been a corporate sponsor for many years. His son, Shaun, is the new owner of the business and is a supporter of CU athletics. Both attended the groundbreaking.
Download the KFVS News app: iPhone | Android
Copyright 2018 KFVS. All rights reserved.