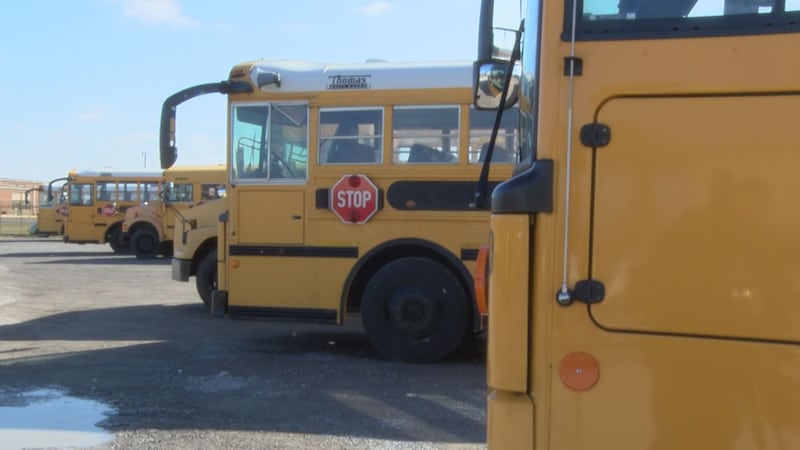 Published: Feb. 9, 2016 at 4:55 PM CST
|
Updated: Feb. 10, 2016 at 2:40 AM CST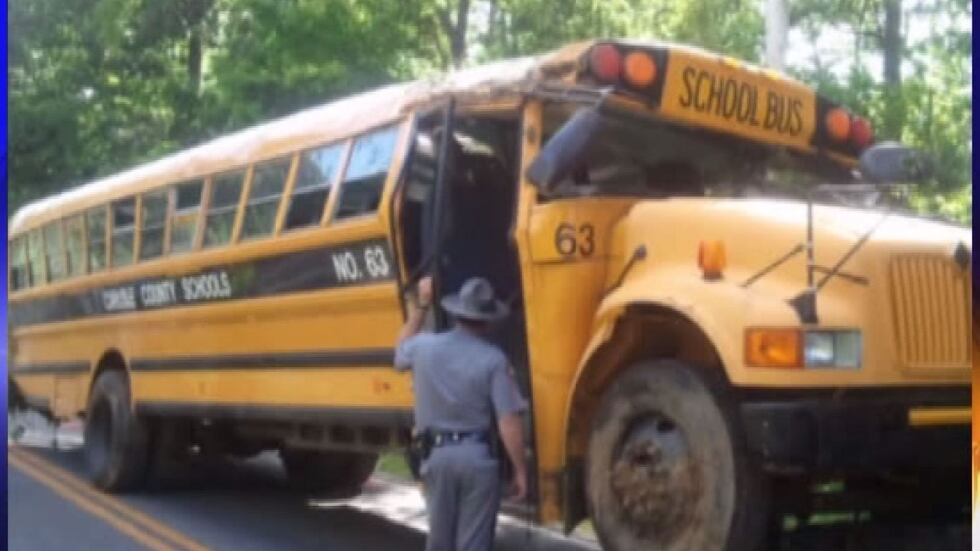 CARLISLE COUNTY, KY (KFVS) - We've all likely been on a school bus at some point in our lives. Did you feel safe?
Statistically, school buses are safe.
But, tell that to families like Kenny and Melissa Simpson of Carlisle County, Kentucky.
"I think about him all the time, and funny stuff he said," said Melissa Simpson.
On May 16, 2011, about a week before the end of the school year, six-year-old Logan Simpson was on a field trip with other students from the Carlisle County School District.
On the way back on Highway 62 near Cunningham, something went horribly wrong.
"I was the first trooper on the scene, when I got there the bus was on its side," said former Kentucky State Police trooper, Thomas Clifton.
It's a scene that still haunts him to this day.
"I remember while I was standing there, there were two helicopters overhead," said Clifton. "It felt like something you'd see in a movie."
Thomas Clifton looked inside the bus, and saw Logan Simpson's lifeless body.
When Logan's father showed up on the scene, Clifton delivered the heartbreaking news.
"That was the worst news anyone had ever told me in my entire life," said Kenny Simpson.
"There were moments when I would think, why...why was it my child," said Melissa Simpson. "Then I would think, that's so selfish of me. I'm thankful no one else is going through this that God gave the strength to get through this and someone else may not have been able to handle it."
The Simpsons say faith and community held them together.
"God got me through it, or I would have just lost it because I didn't want to live after that," said Melissa Simpson.
"Anyone that's lost a child, you mourn daily. It's not something you quickly get over," said Kenny Simpson.
The Simpsons started to ask questions. How could this happen?
Police say when the bus went off Highway 62 it went down an embankment into a deep ravine.
"It rolled over onto its passenger side, onto its roof, and onto the drivers side before it stopped," said Clifton.
"There were children on the bus with injuries, broken wrist, chipped teeth, they were thrown around like rag dolls on that bus," said Kenny Simpson.
"The occupants of the bus with the exception of the driver were like clothes in a dryer, they tumbled from one side to the other," said Thomas Clifton.
The driver, Anita Roach, was injured, but survived. She was charged with reckless homicide, was found guilty in 2012 and sentenced to one year in prison with credit for time served.
Roach was also charged with an attempt to obtain a controlled substance by fraud or false statement, also known as doctor shopping. She was found guilty of that charge in 2013 and sentenced to three years with credit for time served
In 2012, Thomas Clifton resigned from his position as a Kentucky State Trooper, but this case has never left his mind.
He said every time he sees a school bus he is immediately taken back to that day in May of 2011.
"I haven't seen a school bus since then that I don't think about climbing on that bus with Logan," said Clifton.
According to the National Highway Traffic Safety Administration, school buses are one of the safest modes of transportation in the United States.
Statistics show on average six school-aged children die every year in school bus crashes..
"If you ask me if a school bus is the safest mode of transportation for school-aged children, I have to say, 'no,'" said Kenny Simpson.
Right now six states, California, Florida, Louisiana, New Jersey, New York and Texas require seat belts on school buses.
In the Heartland states, no legislation in currently in the works to mandate belts on buses.
The Simpson's, though, do have the attention of at least one local lawmaker who is getting the conversation started, but seat belts could be a tough sell
Darrell Sullivan is the transportation director for the Ballard County School District.
"We run 20 [buses] a day," said Sullivan.
He believes it won't be long before all states require seat belts.
"I think in the coming years we'll see them on buses," he said.
He has held a transportation director title for 16 years.
Sullivan is new to the Ballard County School District, but the topic of belts on buses is not a new discussion.
He, like many other transportation directors, has many concerns. Such as, what if there's a fire?
"Water accidents, that's another accident that would be hard to handle if everyone was belted in," said Sullivan.
The National Education Association also suggests students could use the belts as weapons.
Also, the NEA said bus drivers have other concerns, such as making sure that all students keep their belts properly fastened.
According to the NEA's website, when bus drivers balance these concerns they conclude that given the way buses are presently operated, they are safer without seat belts.
School bus seats are compartmentalized, meaning they are designed to protect students mainly from front or rear end collisions.
"But, there is no protection if a bus turns over, if it starts to roll," said Thomas Clifton.
Which is what happened the day six-year-old Logan Simpson died.
"When the bus started to tumble over, it went onto the passenger side so all the kids on this side shifted over here then it went on its top which tumbled them again, then to its drivers side which tumbled them again," explained Clifton.
"If you talk statistics, they are very safe, you're hard pressed to find a safer mode of transportation," said Clifton.
But, he's convinced we can do better.
"Six to eight kids lose their lives on average on school buses," said Clifton. "In reality, you go talk to those 6-8 families who lost a kid, the stats aren't worth all that much."
In fact, the administrator with the National Highway Traffic Safety Administration agrees.
He said our children are not data points.
"The position of the National Highway Traffic Safety Administration is that seat belts save lives," said Mark Rosekind-Administrator, NHTSA. "That is true whether in a passenger car or in a big yellow bus. And saving lives is what we are about. So NHTSA's policy is that every child on every school bus should have a three-point seat belt. NHTSA will seek to use all the tools at our disposal to help achieve that goal, and today I want to launch a nationwide effort to get us there."
Click here for Rosekind's thoughts on seat belts.
Rosekind has sent letters to the governors of the six states which have passed seat belt legislation.
He's asking the governors to nominate a representative from their state government and a representative from a local school district to take part in a meeting in March to discuss their experiences.
Rosekind has also acknowledged that there would be a cost, and said his agency was investigating ways to overcome the financial barriers to making seat belts universally available to students.
There are several figures that have been suggested on what it would cost to outfit a new bus with seat belts.
On average, that could cost anywhere from $5,400 to more than $7,000 per bus.
Retrofitting an older bus could be even more costly.
"We live in a country that put a man on the moon in the 1960s. I think we can address those issues," said Former Kentucky State trooper Thomas Clifton. "Just has to be a priority. Until you say 6-8 kids is too many...it's not a priority."
When asked if a seat belt would have said Logan Simpson's life, Clifton said, "Absolutely. The fatal and severe injuries that happened on that bus that day, a seat belt would have prevented."
The Simpsons believe that too.
The pain is just as raw today as it was nearly five years ago.
"It's like time stops, then one day when you don't realize it, you laugh and you feel guilty for it, takes a long time," said Melissa Simpson.
"When you talk about the Simpsons and you talk about these people it's not the numbers anymore, when it happens right here at home, they're not numbers, it's people, and it's a problem," said Thomas Clifton.
It's something the Simpsons hope all parents, school leaders and lawmakers consider.
"They don't think about it until something like this happens then it brings it to the forefront again, but it's not long before it's brushed under the rug, everyone moves forward except the people it happens to," said Melissa Simpson.
Kentucky State Representative Steven Rudy just filed a bill that would require a bus driver to notify his or her supervisor if their medication might affect their ability to drive.
The day Logan Simpson died, police say the school bus driver was on a high-powered pain killer that should have kept her off the road.
Click here to read the new legislation.
As for seat belts, again nothing locally just yet, but Representative Rudy said he will continue to gather more information.
Rudy said quite possibly in the future he may file legislation mandating seat belts on school buses.
If this is something that is important to you, Kenny and Melissa Simpson urge you to contact your local lawmakers and start asking for change.
Download the KFVS News app: iPhone | Android
Copyright 2016 KFVS. All rights reserved.