Heartland News I-Team: Pill Mill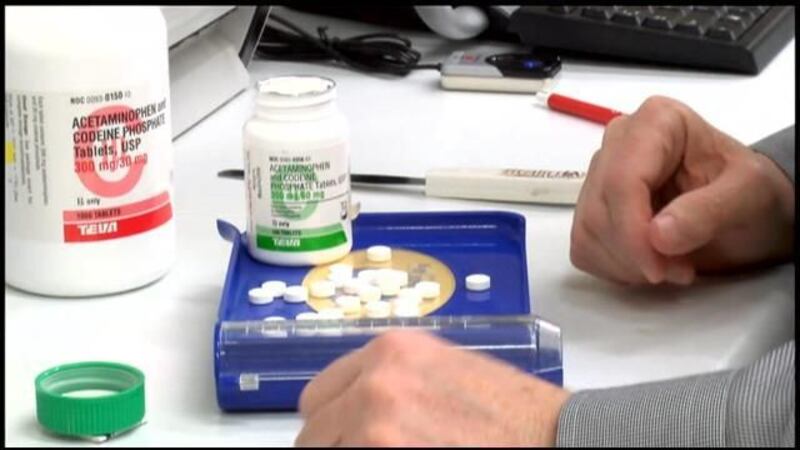 Published: Oct. 30, 2014 at 6:36 PM CDT
|
Updated: Jul. 17, 2018 at 7:22 PM CDT
BUTLER COUNTY, MO (KFVS) - Move aside, meth. Missouri is now the capital of a different kind of drug abuse.
Every state in the nation has a prescription drug monitoring program, the primary tool in identifying pill abusers, doctor shoppers, and doctors who over-prescribe addictive narcotics. Every state, that is, except Missouri.
Missouri has gone from being called the meth capital of the United States to the pill mill of the U.S., the only state where this kind of drug abuse isn't being tracked, or easily stopped.
"Here you go," the woman said as she handed a baggie to a local narcotics officer.
It took less than a five minute phone call to make an illegal pill buy in October in Butler County.
"So, what did we get?" the officer asked.
"Six," the informant responded.
A confidential source working with an undercover drug investigator bought six Oxycontin pills. Narcotic painkillers typically go for $20 to $30 a piece.
"Did xxx say xxx's got more?" the detective asked.
"Oh, anything I want, that I need to make money with, xxx can get whatever I need and do whatever I need," she replied.
"It's happening in all walks of life, in every social background," State Representative Holly Rehder said of prescription drug abuse.
The Sikeston native says she has a personal stake in the fight to track prescriptions in Missouri.
"We've been 12 years now since my daughter became addicted to pain killers," she said.
Rehder co-sponsored a bill last year to create a statewide Prescription Drug Monitoring Program and she'll take the lead when they try again in early 2015.
A PDMP would create a statewide database that would track the number of prescriptions a patient has, and any evidence of possible abuse.
"The big ones right now are the opioid analgesics, pain medicines," Charleston Pharmacist Richard Logan said.
Logan knows what kinds of pills are being abused, and who is abusing them.
"I go into cop mode when that happens," he said.
Logan has been a pharmacist for nearly four decades and a Scott County sheriff's deputy for two years.
He says there are really two types of people trying to get their hands on prescription pain medications.
"Those patients that truly need it," he explained. "And those patients who truly abuse it."
Without a prescription drug monitoring program in place, Richard Logan says pharmacists like him really have to go with their gut to try to figure out if they're being handed a legitimate prescription.
Logan had two new patients come into his pharmacy in October. They were from eastern Kentucky and their prescriptions were out of south Florida.
"I actually put on the badge and ran them out of the pharmacy," he recalled.
Earlier in October, Logan helped arrest Jerry Corbin of East Prairie at a Benton medical clinic. Authorities say Corbin hitchhiked there with his 8-year-old daughter to try and get another prescription to fill.
"We are hearing more and more public outcry," Rep. Rehder said. "And that's what it's going to take to move the needle."
And yet, she's at odds with other Republicans in Jefferson City, who call a PDMP an invasion of privacy.
Leading the fight against a Missouri PDMP is St. Joseph doctor and state senator Rob Schaaf.
Schaaf spent eight hours on the Senate floor blocking a 2012 push for the database.
"This bill causes every citizen to be forced against their will to give up their privacy," Schaaf said.
When asked how those who abuse pills like these infringe on others' freedoms, he said "if they overdose and kill themselves, it just removes them from the gene pool."
Heartland News could not get an interview with Senator Schaaf, but one of his staffers says Schaaf won't support a PDMP unless it's put to a statewide vote.
"Predominantly, it's just being held up by Senator Schaaf," said longtime narcotics agent Kevin Glaser about a Missouri drug database. "I mean, if you get right down to it, the majority of our legislators I think want to move in that direction."
"Fear motivates," Rehder added. "And using that privacy issue is just motivating fear."
Those in support of a PDMP hope they go into the next legislative battle with more support. A recent summit in Poplar Bluff brought together police, health care professionals, and lawmakers.
"To put it in my terms, when you have the radicals on the East Coast and the radicals on the West Coast and in New York, when they can make a program that works and the heart of America in Missouri can't make one that works? I find that hard to believe," Poplar Bluff Police Chief Danny Whiteley said.
So, what do you think? Should Missouri have a Prescription Drug Monitoring Program, or do you worry a database like that would invade your privacy? Let us know in the comment below or on our Facebook page as we continue following this issue, and the expected debate early next year in Jefferson City.
Copyright 2014 KFVS. All rights reserved.