Thieves cut tails, steal horse hair
Published: Jan. 9, 2013 at 10:58 PM CST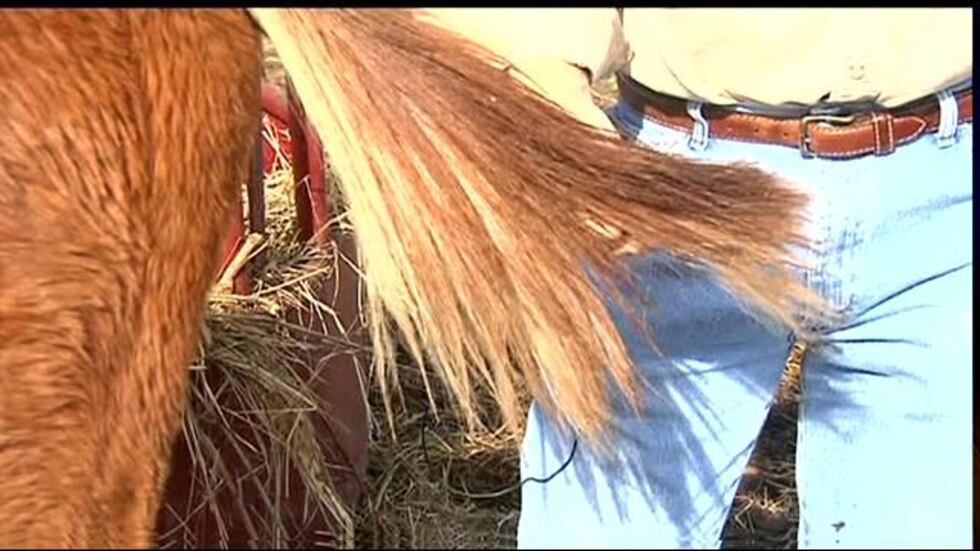 WHITE ASH, IL (KFVS) - A warning for horse owners: watch your horse's tail - literally.
Someone has been creeping into paddocks at night armed with scissors in hopes of making big bucks on the black market.
Barn owner Jeff Jenkins says someone cut off all but two tails at the Southern Illinois Equestrian Center within the last week.
Barn owner Jeff Jenkins says brazen thieves tip-toed into the pasture late at night and started snipping. It's a crime he says started out west.
"The state of Wyoming is being destroyed by this," said Jenkins. "Then it moved to Colorado, and then for some reason jumped all the way to Ohio, Missouri and now into Illinois."
"They tried to get the longest hair," said horse owner Michelle Cornman. "They started up here and went down."
Apparently, horse hair has become a hot commodity. Williamson county sheriff Bennie Vick says it goes for big bucks on the black market. Although - there are only theories as to what it's used for.
"I guess some different colors of horse hair are a higher price," said Sheriff Vick.
Some believe the hair will be made into hair extensions for show horses. Others say Horse hair jewelry is prompting the rash of tail thefts.
A quick search online shows a retailer that sells tail extensions for show horses claiming their products are 100 percent horse hair. Prices on the site range from $79 dollars to more than $500 varying by the weight and color of the extension. Horse hair jewelry may be even more lucrative.
"These were $10 a piece," said Cornman. "They're just little bracelets. So you can imagine how many they could do from one tail... if someone is manufacturing these goods they need to find out where the horse hair is coming from."
The horses' tails will take years to re-grow. Without it the horses can't fight off biting flies or other pests. That's has left their owners itching for justice.
"Someone needs to be reprimanded big time, and maybe we can curb this," said Jenkins.
"It's a crime punishable by up to a year imprisonment and fines," said Sheriff Vick. "So that's what they can expect if we catch them."
Copyright 2013 KFVS. All rights reserved.