Metropolis under voluntary evacuation
Published: May. 2, 2011 at 11:53 PM CDT
|
Updated: May. 3, 2011 at 8:02 PM CDT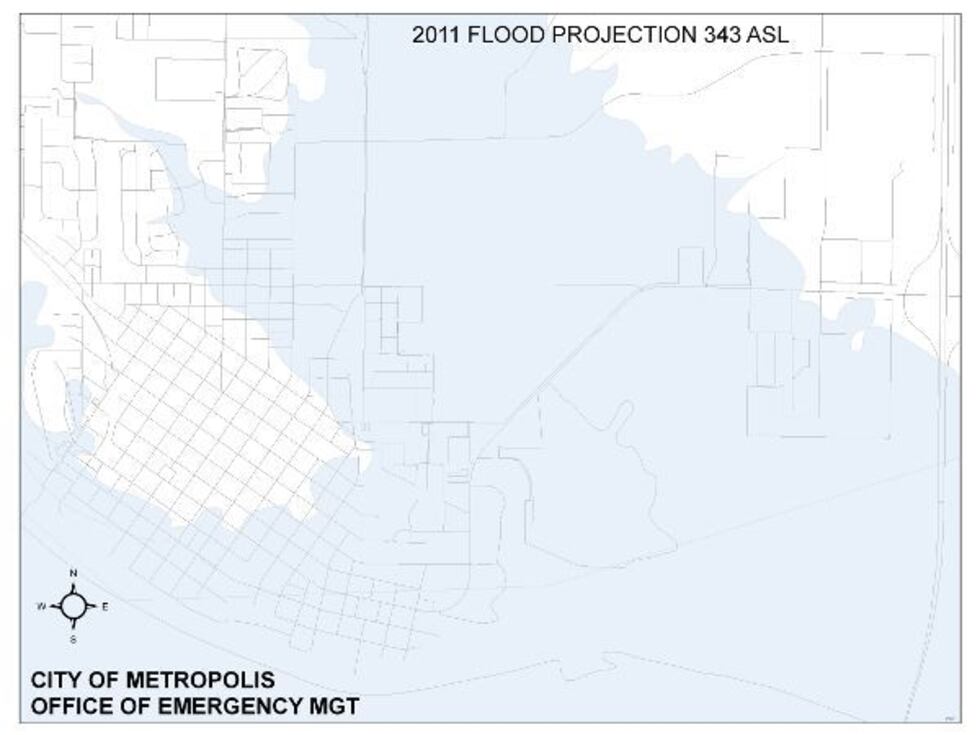 METROPOLIS, IL (KFVS) - The Mayor of the City of Metropolis is recommending the voluntary evacuation of parts of the City of Metropolis.
The Ohio River at Metropolis is forecast to rise an additional 5 feet between now and Friday, May 6.
As of Tuesday, the water level is at 339.43 feet. The city of Metropolis is at a sea level of 276.6 feet. The mayor of Metropolis is advising anyone whose home is at an elevation of 340 feet or below should take precautions.
For elevation information you can call the mayor's office at 618-524-4016 or the city clerk's office at 618-524-2711.
Residents whose homes lie within the blue shaded areas in the picture to the right are expected to be impacted by the flood waters and are advised to take appropriate action.
Restricted access in and out of the City of Metropolis can be expected.
Residents within the blue shaded area are encouraged to seek shelter with friends or family outside of Metropolis.
Essential services within the city limits are expected to be limited or non-existent at the current river forecast.
The following information was provided by the mayor's office.
Emergency Numbers:
Emergency 911

Police Dept. 618-524-2310

Fire Dept. 618-524-2121
Closed main streets:
12th Street at the Intersection with US 45 South

North Avenue at 20th to Marberry Drive

Metropolis Street from Hope Lane to Crestview

7th Street at the Intersection with US 45 South

Old Marion Road from 19th to the high school
Several secondary streets are also covered in water. Residents are warned not to drive through standing water on the roadways and not drive around barricades or cones. Violators will be issued traffic citations.
Public shelters:
The Metropolis Community Center located at 900 West 10th Street. You can call 618-524-1696 or 618-638-4354 for more information.

Waldo Baptist Church on Waldo Church Road. You can call 618-645-3656, 270-210-6406 or 618-638-0658 for more information. This shelter is currently reporting no vacancies.

Vienna High School at 601 North 1st Street in Vienna, Ill. You can call 618-658-4461 for more information. This shelter is open and can hold up to 200 people.
City Services:
All city services are currently up and running.

If water levels get close to your breaker box, contact the City's Electric Department to have your water removed. You can call between 8 a.m. and 3 p.m. at 618-524-2711. After 3 p.m. and on weekends you can call 618-524-2310.

Try to limit water usage to avoid more water in the combined sewer system
Pets:
A shelter is available for dogs at the Metropolis City Animal Control facility located on Public Works Drive. Shelter for both dogs and cats is available at the Metro Kennel at 2783 North Avenue. You can call the shelter at 618-309-4426.
The mayor will be available every day at about 3 p.m. to answer questions and provide information at City Hall.
Copyright 2011 KFVS. All rights reserved.