Veterans Day flagpole vigil, wreath-laying ceremony at SIUC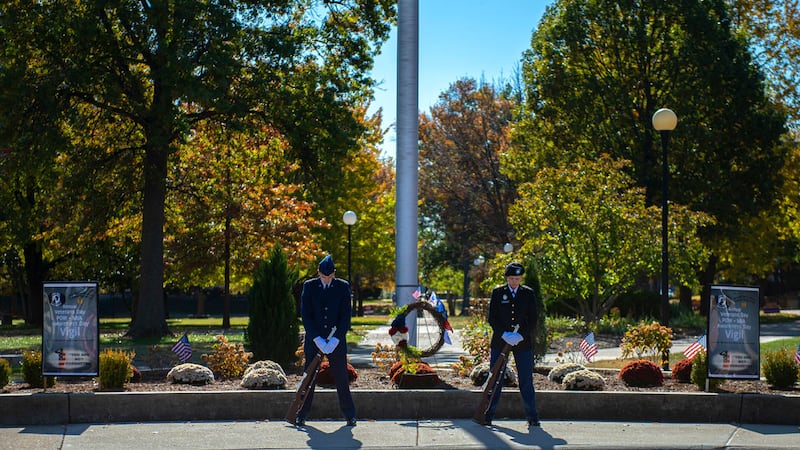 Published: Nov. 6, 2023 at 11:29 AM CST
CARBONDALE, Ill. (KFVS) - Southern Illinois University Carbondale will commemorate Veterans Day with its annual vigil at the flagpole and wreath-laying ceremony.
This will be the 42nd anniversary of the vigil. It honors SIU and Southern Illinois veterans who served their country in the U.S. armed forces.
The vigil begins at 6 a.m. at the Old Main Flagpole, just south of Woody Hall.
According to SIUC, ROTC cadets will stand silent vigil throughout the day, changing shifts every 15 minutes, until noon.
At 11 a.m., members will hold a wreath-laying ceremony at the flagpole and will unveil a shadowbox posthumously honoring retired Lt. Col. Harvey Welch, an SIU alumnus and member of Air Force ROTC Detachment 205.
According to a release from SIUC, Welch was a Centralia, Illinois native and the first Black player on the Saluki basketball team in 1951. He was also SIU's first Black Air Force ROTC graduate.
After 20 years of service in the Air Force, Welch returned to SIU for a second career as a dean and vice chancellor for student affairs. He retired in 1999.
Coordinated by SIU Air Force and Army ROTC programs, in partnership with SIU Veterans Services, the ceremony will be led by Haley Harrison, a graduate assistant with veterans services. There will also be an invocation by Rev. Brian Coffey, Army National Guard veteran and pastor at Epiphany Lutheran Church, Carbondale.
Carbondale Mayor Carolin Harvey will read the city proclamation, and Lt. Col. Jessica Dwyer, Air Force ROTC Detachment 205 commander, will give keynote remarks.
Copyright 2023 KFVS. All rights reserved.