Journey of former Heartland football great Danny Lee Johnson
Published: Oct. 27, 2023 at 6:00 PM CDT
|
Updated: Oct. 27, 2023 at 6:26 PM CDT
MURRAY, Ky. (KFVS) - The journey for former Heartland football great Danny Lee Johnson is filled with hardship, mystery and inspiration. A man facing the ultimate hurdles to reach the finish line.
"This here is when we went to the state playoffs and Jonesboro got us, but we had a great team. And Murray State is where I was recruited to," Danny Lee Johnson, former East Prairie and Murray State football star, remembered.
He has a lot of great football stories to tell, but this story is the one he wishes he could forget. You see Danny Lee's early road was paved with physical and mental abuse from his father. He said the only person able to help was his mother.
"I look back on it now, and all the punishment she took because of me. But every night when he came in at two o'clock, she me him halfway before he got to my room," he said.
Danny's mother eventually divorced his father and made the decision to leave town, but Johnson desperately wanted to stay in East Prairie. That's where he faced the toughest decision of his life. A meeting with his coaches answered his prayers.
"They said, 'Danny, let us try to help you before you leave,' and I said, 'I never had a reason to trust a white man in my life,' but I told them 'yes.' For a month I slept on this floor," he said.
His coaches provided him with a refrigerator and mat to sleep on, but there was more.
Danny Lee was put on food stamps and welfare; and some four decades later, he still wonders who made all this happen. But he does have a message for his guardian angel.
"I'm glad you looked at me as a person and did not see my color," he said. "I'm glad you are a Christian and I thank you."
With his life finally in order, Danny's athletic career took an unusual turn.
While Danny Lee Johnson is known for his glory on the gridiron, his football career started in the East Prairie gymnasium.
"The football coach came out with a basketball and said, 'if you beat me in one-on-one, I won't bother you about playing football, but if I beat you come out your freshman year and play varsity football,'" he said.
That man was former well respected East Prairie Football Coach Ed Nichols.
Nichols remembered that game.
Were gonna go to that 1-on-1 basketball game, if you beat him he was gonna play football, how did that work?
"I beat him," he said. "I knew I was gonna beat him. He was from Dorena and I played basketball a lot and he hadn't."
From that day on a football star was born. Danny Lee became a unanimous All-State running back at East Prairie and a high school All-American.
He picked up where he left off at Murray State, earning All-American honors there as well. It looked like the NFL was in his future with the St. Louis Cardinals.
"I was projected to be a first round draft choice, because I'm from Missouri and that would bring people to Missouri," Danny Lee said.
"There's no question in my mind what he could do physically and mentally," Frank Beamer, former Murray State head football coach said. "He would have had a career in the NFL, I would think."
But Danny Lee's dreams of playing professional football ended in the first game of his senior season.
"I took a hit I never seen coming," he said. "It tore my chest muscles, it tore my bicep muscle, it tore my tricep muscle, it broke my collarbone. First play of the game."
Danny Lee Johnson never got a chance to play in the NFL. He also never looked back.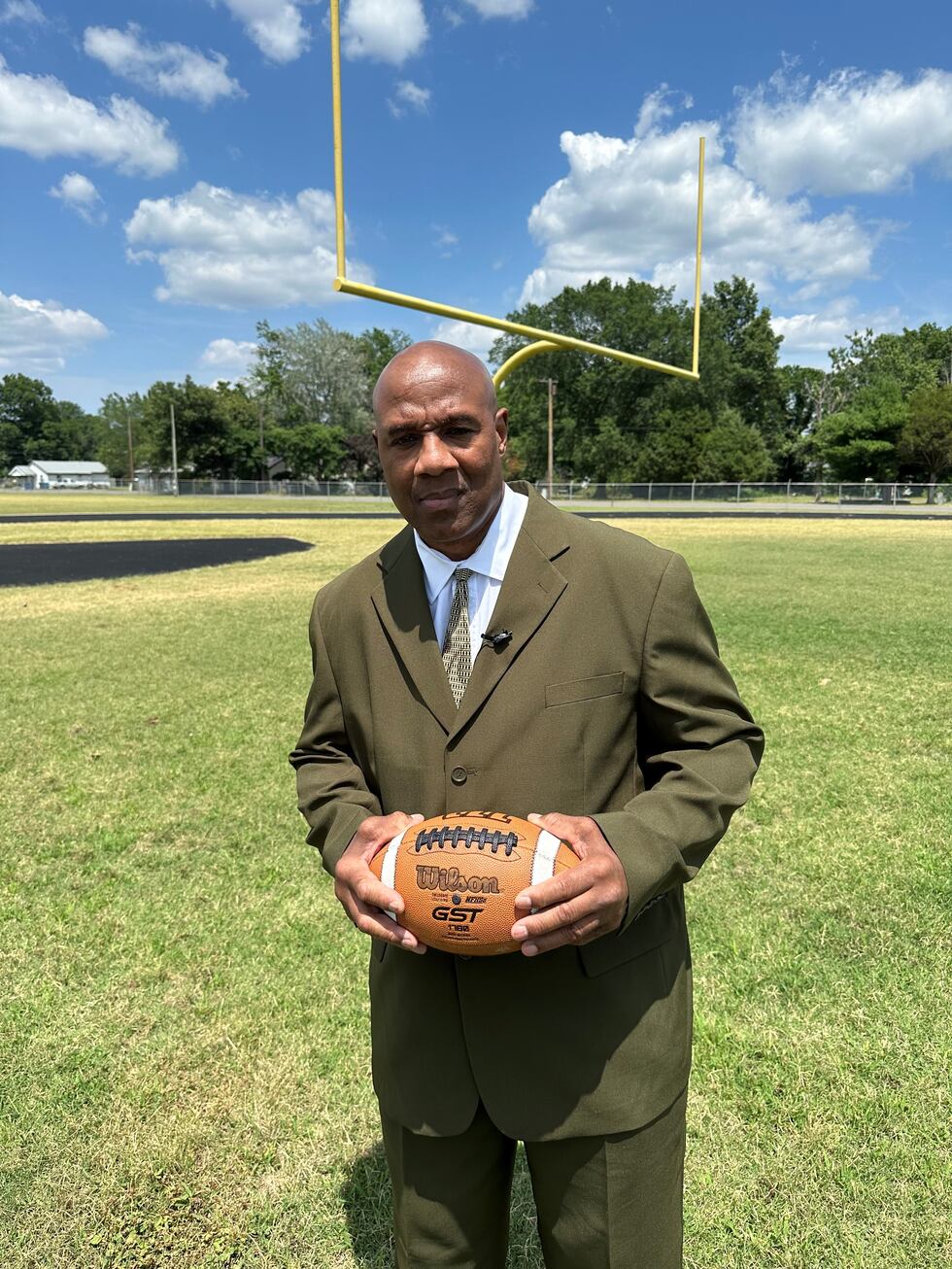 He's been married to the love his life Adria for 40 years, raising a beautiful family, and recently retired after a distinguished 40-year career as an Evansville firefighter.
He also became the 40th football player inducted into the Murray State Hall of Fame.
"I'd like to say to everyone that had a part in Danny Johnson's life, being the man that I am, being the husband and father I am, I want to say thank you to all of you, God bless you," he said.
Danny Lee Stout-Johnson has written two books relating to his life on and off the football field. He said his ultimate goal is to thank those who helped him and help others by sharing his amazing story.
Copyright 2023 KFVS. All rights reserved.