First Alert Investigation: The Coroner's Conduct
Published: Oct. 26, 2023 at 6:01 PM CDT
|
Updated: Oct. 26, 2023 at 10:03 PM CDT
CAPE GIRARDEAU COUNTY, Mo. (KFVS) - As leaders in Cape Girardeau County consider the future of the coroner's office, more families come forward to share their experiences with the man currently holding that position.
They reached out following my initial report earlier this month, with a whole new set of concerns regarding Coroner Wavis Jordan.
Jordan often performs death investigations, which can involve drawing blood and sending it off for testing.
He is also responsible in many circumstances for listing someone's cause and manner of death.
But I recently sat down with two families who tell me Jordan's actions leave them with more questions than answers.
"I can forgive unprofessionalism. I can forgive being frustrated or rude. What I cannot forgive is do not lie about my family members to me. And this is a lie."
Jenny Blankenship is talking about the death certificate of her nephew, Christopher Kight, certified by Cape Girardeau County Coroner Wavis Jordan.
It shows the 29-year-old died on January 8, 2022, from a myocardial infarction, a heart attack. His manner of death - natural.
"And that didn't make sense because he's very young," Blankenship tells me. "And then when we went to pick up the police report, it says right here on the first page that it was suicide. The two don't coincide. You can't get natural causes out of suicide."
I met with Blankenship and Christopher's mom, Christy Young-Clover. You'll hear from her in a moment. She's not been able to read through the police report detailing her son's death. So, she left the room when Blankenship and I talked about it.
"If you walk step by step through what they have in here," Blankenship said of the police report, "there's nothing natural about the way my nephew died."
The report details everything seen by police, and the deputy coroner who responded to Christopher's apartment January 8. 2022, after a friend reported seeing him through his chain-locked front door, unresponsive on the couch.
The report documents officers found a bottle of sodium nitrate on his kitchen counter. They also found a paper describing its use in suicides. They noted a liquid substance in a glass near his body. And they discovered paperwork making the friend who found Kight his power of attorney.
Crain Funeral Home provided me Kight's death certificate form. It shows Wavis Jordan completed the form for Kight's cause and manner of death. And under manner, there are six options. One of them is suicide. Jordan marks Kight's manner of death as natural.
"We loved this boy," Blankenship tells me. "He has a whole family that was knocked on their knees."
Blankenship fights back tears as she tells me they are still coming to terms with losing Christopher the way they did. But they find no comfort, she says, in a death certificate that does not reflect the truth.
"That is a blatant lie. That death certificate is a blatant lie."
Now it's Christy Young-Clover's turn to share her experience with the coroner's office.
"I've had the same phone number since he was probably two, three years old."
That fact is important because when her son Christopher turned 17 he cut off ties with her side of the family.
"Even when I got married, I still kept my maiden name just so if he needed to reach out or anybody needed to find me, they could find me with no issues."
In December 2022, she tells me someone found Christopher's obituary online. Young-Clover called Crain Funeral Home and learned her son actually died eleven months earlier. She tells me she called Cape Girardeau County Coroner Wavis Jordan to learn more.
"And the only information that he gave me was that I can contact the funeral home and get a death certificate. And the police report."
She recalls asking Jordan why no one notified her of Christopher's death.
"And he said he did everything he could. And couldn't reach me. And I let him know that I've lived here in town my entire life. My name hasn't changed. My phone number has never changed."
Crain Funeral Home also sent me this letter that shows Coroner Jordan ordered Crain to cremate Kight's remains after having "exhausted all means available to located any relative." But it also shows Christopher's social security number, something Christy says would lead directly to her.
"Christopher's father passed away when he was young. Back in 2000. And Christopher received survivor benefits from his father's passing. So, the Social Security office would have had my address. My phone number. My name. Every bit of information to reach me."
As for the investigation into Christopher Kight's death, Crain Funeral Home tells me his body was not autopsied. Lieutenant Don Perry with the Cape Girardeau Police Department tells me they asked if Kight's blood was tested and were told it was not.
And Cape Police records show other cases where blood draws by the coroner did not happen.
In late November 2022, a 50-year-old Cape Girardeau man was killed when he walked into traffic at State Highway 74 and Sprigg Street.
Officers found two containers of alcohol near the man's body. The police report shows Coroner Wavis Jordan responded to the scene and officers requested a blood sample be taken from the deceased, but the coroner was unable to do so.
"Any fatality crash, we always request the blood to be drawn," says Cape Girardeau Police Patrolman Bobby Newton. "Whether they be a driver or a passenger or a pedestrian even. Any fatality we typically request a blood draw."
I spoke Patrolman Newton about the importance of drawing blood at the scene of a fatal crash.
"Blood draws are really crucial, especially in fatality crashes or major injury crashes, so that we can decide if there's any criminal activity that we need to prosecute or go after. And then also any contributing circumstances that may have resulted in that crash."
On an early Monday morning in mid-January of this year, Cape Police responded to a single-vehicle fatal crash in the 1400 block of North Kingshighway. The police report in this case describes the vehicle going airborne out of a ditch and hitting a business driveway before crashing into a concrete structure. According to the report, Coroner Jordan advises one of the officers "he was unable to get a blood draw for toxicology results" from the driver.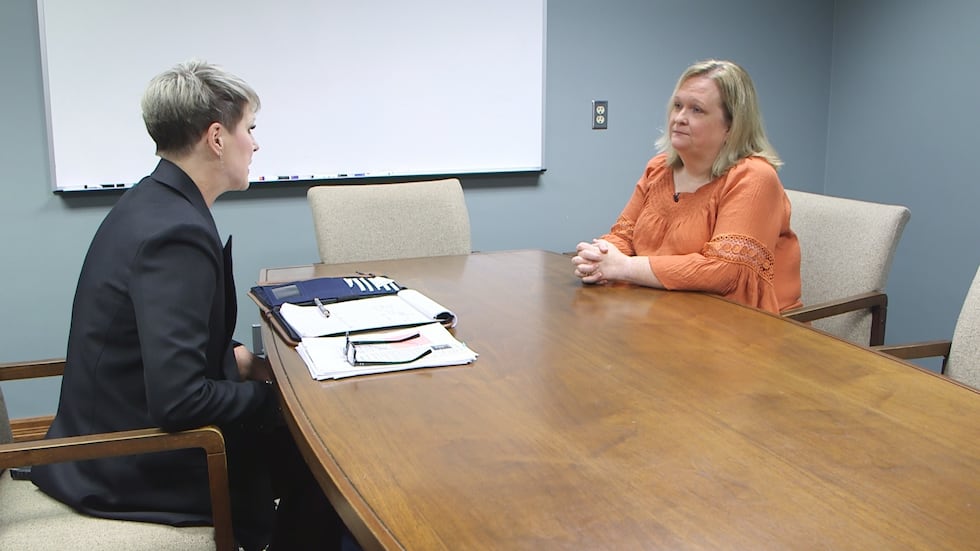 "Felt like I'd hit a brick wall. I didn't know what to do."
It's why Dana Mueller decided to reach out to me and share what happened following her sister Susan Westrich's sudden death in July 2021.
"My niece called me and said I can't wake mom up."
The 50-year-old mother and grandmother was gone before help could arrive. Dana says she spoke to both Wavis Jordan and one of his deputies at her sister's house in Oak Ridge.
"And I asked well what's next? And the deputy coroner told me, well we will do a tox screen. And this was on a Wednesday. And he said, if you don't hear back from me on Friday call me. And he gave me his business card."
Dana tells me she called that deputy coroner two days later and he passed her off to Jordan.
Here's how she describes the call when she got the coroner on the phone.
"I told him who I was and why I was calling. And again he just sat there. And then he said oh. I must have got things confused. Sorry. That was it. Just a single word. Sorry. And that was it."
Sorry I didn't do that screening? I asked her.
"He just said sorry," Mueller replied. "And now we're left with having no idea what happened to her. Her two children don't know. Her mother doesn't know. We have no idea what happened to her because of that."
Westrich's death certificate lists her cause of death as myocardial infarction.
In simple terms, that means heart attack, I tell her.
"Right."
Did your sister have heart issues?
"Not that I ever knew of at all. No."
Do you think he did enough? I asked Christy Young-Clover and Jenny Blankenship. Do you think his office did enough?
"No," Young-Clover replied. "There's no way he did enough."
This latest set of families hoped to learn more about their loved ones' deaths from Cape Girardeau County's chief death investigator.
But instead, they say they find themselves speaking publicly about the frustration compounding their grief.
"And then in the journey to find answers, to find that things didn't add up from one piece of paper to the next," Jenny Blankenship says. "And they all connect back to one office."
We brought all of these concerns to coroner Jordan and this time; he chose to respond by email.
He calls much of the death certificate information confidential, but he does address his effort to track down family and what happens when he cannot draw blood at a fatal crash scene.
Jordan also publicly defends his office and his actions.
And one last note about Christopher Kight's death certificate, his mom Christy Young-Clover filed a voluntary statement with the Cape Girardeau Police last week claiming Coroner Jordan filed false documents related to her son's death.
Copyright 2023 KFVS. All rights reserved.