Willard, Mo., man uses 'robotic legs' to walk again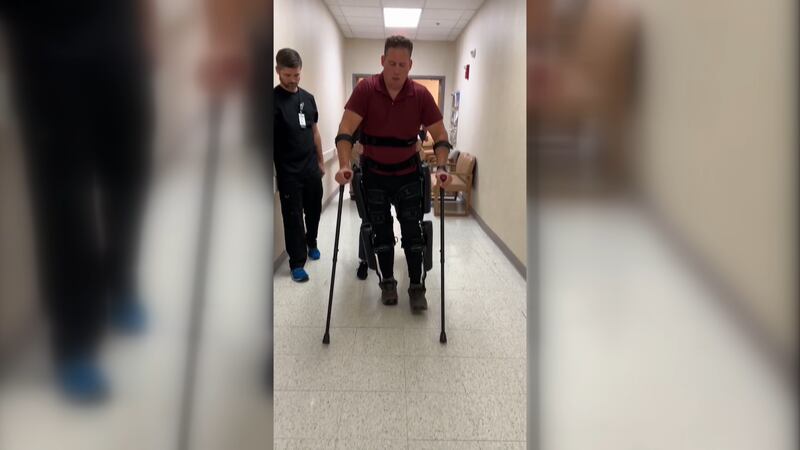 Published: Oct. 3, 2023 at 12:22 PM CDT
WILLARD, Mo. (KY3) - A Willard man is working on his recovery after a frightening fall at work nearly two years ago.
"In the very beginning, it was very hard to see a light at the end of the tunnel," said Dave Betts.
Betts was a roofer with a Springfield contractor. He says after he tied up and secured himself, he reached out to help a co-worker slipping off the roof. That's when he fell more than ten feet, landing on a scissor lift, severely injuring his back.
"There's a lot that goes with this injury mentally," he said. "Not being able to use your legs. If you think about the things, you used to be able to do. It's really difficult. I try to focus on what I have and the future. That has really changed my outlook and made it much easier to deal with."
Betts says support groups have also helped.
"I've met groups, the spinal cord injury group, Ozarks Wheelchair Adventurers. It's other people with spinal cord injuries. We get together once a month. That has changed my life. That has really, I told myself I could do this, that has really shown me I can carry forth with what I used to love to do," he said.
Recently, Betts got to do something he didn't think possible: walk again.
He said, "It's called re-walk, and it's an exoskeleton. It goes on, strapped to my legs, and allows me to stand up, to walk eventually, to go upstairs."
"It comes with a lot of medical pros," said his wife, Candace Betts.
"It helped my pain almost instantly. Within five minutes of wearing the device, my pain was gone. It was incredible. And just the joy, mentally, being able to move was just, I can't even describe it. It was just amazing. It just gave me freedom that I haven't had. It was incredible," he explained.
Betts says he's ready for whatever the future holds.
"My goal is to try to help people. I'm not sure exactly how I'm going to do it, but I just want to help people," he said.
The Betts hope to secure funding to purchase the 'robotic legs' shortly.
To report a correction or typo, please email digitalnews@ky3.com
Copyright 2023 KY3. All rights reserved.