Cardinals celebrate Adam Wainwright as his incredible career in St. Louis comes to an end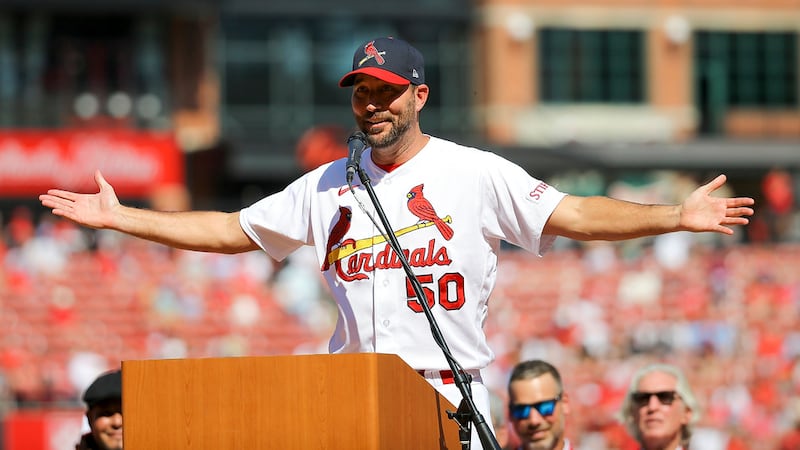 Published: Oct. 1, 2023 at 4:52 PM CDT
ST. LOUIS, Mo. (KMOV) - At the end of a season to forget, the festivities surrounding the final game of the 2023 St. Louis Cardinals season were focused on a career worth remembering.
More than for the action that would ensue on the field, anticipation for the pregame Adam Wainwright retirement ceremony reverberated through the ballpark like the retiring pitcher's vocals from his Busch Stadium concert the night before.
With the area surrounding home plate filled with various family, friends, former teammates and Cardinals Hall of Famers, Wainwright received a number of surprises during the on-field ceremony in his honor ahead of Game 162 between the Cardinals and Reds on Sunday afternoon at Busch. The Cardinals won the game, 4-3, as Miles Mikolas reached the 200-inning milestone for the season.
The presents poured in, as the organization gifted Wainwright a custom Cardinals-themed guitar with inscriptions written by his children.
Bill DeWitt III, inspired by Wainwright's fearlessness in his pursuit of a career as a country music recording artist, pursued his own passion for painting and presented a portrait of the Cardinal right-hander that the team president had painted himself.
The Cardinals also committed $100,000 to Water Mission to support the provision of clean drinking water in Honduras, a charitable organization for which Wainwright is a partner.
DeWitt III even coordinated with Wainwright's wife, Jenny, to surprise Adam and his children on the field with a gift the family had awaited for several years as the 42-year-old pitcher annually weighed the possibility of retirement—the Wainwright family finally got a puppy.
"Well, I guess it's official. I got a dog, so I am officially retired," Wainwright laughed.
But after he introduced the guests on the field, master of ceremonies John Rooney reached the portion of the introductions in which he let Wainwright and the fans at the ballpark in on one more big surprise.
"Today's celebration of Adam Wainwright would not be complete without welcoming back two individuals..."
By that point, the noise of the crowd began to drown out Rooney's words at the microphone. Because people were starting to fill in the blanks of the words he was getting ready to speak next.
"Let's welcome back No. 5 and No. 4…"
A year after their own retirements from Major League Baseball were celebrated on the very same field, Albert Pujols and Yadier Molina emerged from the home dugout to a raucous ovation. Two of Wainwright's most prominent St. Louis teammates surprised the pitcher with their presence on the day of his final big-league game.
Standing at the podium in his red jacket, Chris Carpenter provided one of the most poignant moments of the ceremony as he described his relationship with Wainwright, which began back in 2004. The St. Louis coaching staff wanted to see a young Wainwright spend time around Carpenter in order to see what it looked like to be a professional—in order to learn everything he could from the veteran pitcher.
But Carpenter shared that Wainwright turned the tables and invested in Carpenter in ways that proved life-changing to him.
"We talk about mentoring—you hear about all the great things that he's done on the field—but the most important thing is the type of human he is," Carpenter said. "He continued to invest in me without me even knowing it. And on April 14, 2010, I showed up in the clubhouse to a Bible sitting on my chair at my locker. It changed my life."
"I love him. His friendship to me means the world. I know that he's going to do great things."
Pujols took a turn at the microphone, thanking Wainwright and Yadier Molina for putting in the work last year to ensure that No. 5′s last ride in St. Louis would happen.
"I know that thanks to you and Yadi, I was able to wear this uniform back last year," Pujols said. "So thank you for all the FaceTimes, too."
Like Carpenter, Pujols expressed his appreciation for the impact Wainwright has made to those who have known him throughout his career—and made sure to get in a solid zinger or two before leaving the podium.
"I'm glad that you're a great listener, too," Pujols remarked. "Because two weeks ago I was here, and I ask you, please don't wait three more months to win 200. So thank you for that, and I'm sure the fans thank you, also."
During his own turn at the microphone, Wainwright fought through his emotions to deliver a speech in which he expressed his gratitude for the opportunity to enjoy a special day like this one.
"How great is it to see Yadier Molina back out here?" Wainwright asked, inspiring Molina to step from his seat to interrupt Wainwright at the podium with another hug.
"I'm sorry," Molina said into the mic. "I love you, brother. Enjoy retirement. You deserve it. Everybody says what an amazing person you are—Yes, you are an amazing person. Thank you for all the help you give me.
"I love you, brother. You're still my brother. And you always will be my brother."
Molina helped lead the charge in the eighth inning for one more appearance by Adam Wainwright in a Major League game. Wainwright's long-time batterymate was shown on the video board holding up a hand-made sign that read "I want to see Waino bat."
Though Cardinals manager Oli Marmol had said earlier in the day that he would like to see it happen, he cautioned that it would depend on how Wainwright was feeling. But it was clear that No. 50 wasn't about to disappoint Yadi or the thousands of fans chanting his name inside Busch Stadium.
Later in the inning, Wainwright stepped to the plate one final time, fouling off a couple of pitches before seeing his career end with a strikeout. As he walked off the field with a shrug toward his teammates in the dugout, the crowd showered Wainwright with cheers—they had just watched another Cardinal legend conclude his illustrious career in St. Louis.
Copyright 2023 KMOV. All rights reserved.