Travis Kelce reflects on 'day that went perfect' with Taylor Swift in Arrowhead suite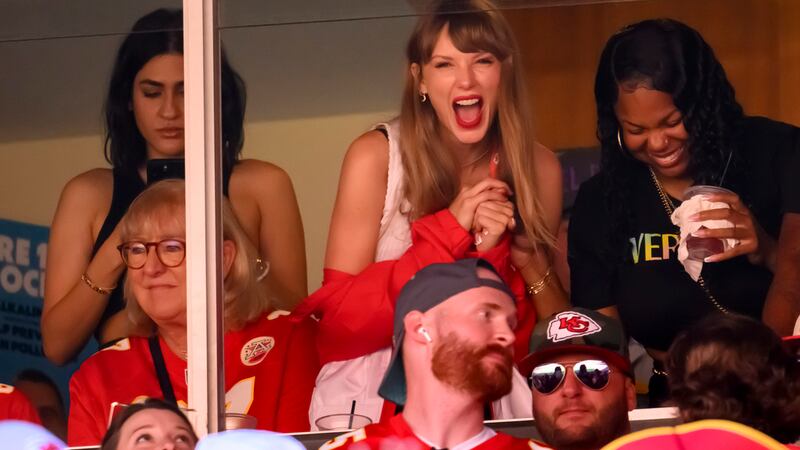 Published: Sep. 27, 2023 at 8:17 AM CDT
|
Updated: Sep. 27, 2023 at 8:37 AM CDT
KANSAS CITY, Mo. (KCTV) - In what is likely to be their most popular New Heights podcast, Travis and Jason Kelce briefly discussed what is top of mind for just about everyone in the sports and entertainment world: the relationship of the Chiefs tight end and Taylor Swift.
The pop star traveled to Kansas City on Sunday and sat next to Donna Kelce in an Arrowhead Stadium suite for the Chiefs 41-10 domination over the Chicago Bears.
Travis and Taylor were then seen in Kelce's convertible Sunday evening driving around Kansas City.
Travis Kelce revealed that his popularity has increased a bit since news of the two became such a large story.
"I've noticed a few things, like paparazzi outside of my house. 100% and they all have British accents or something European," he told Jason on this week's episode of New Heights presented by Wave Sports + Entertainment. "They have a camera in their hands and they're screaming my name."
Following the 12-time Grammy Award winner's appearance at Arrowhead Stadium, jersey sales for the All-Pro tight-end seemingly skyrocketed.
You can watch and listen to this week's episode of New Heights presented by Wave Sports + Entertainment on YouTube by clicking the link below.
According to sportswear and fan merchandise company Fanatics, Kelce was one of the top-5-selling NFL players Sunday. He "saw a nearly 400% spike in sales throughout the Fanatics network of sites, including NFLShop.com," a spokesperson told The Associated Press via email.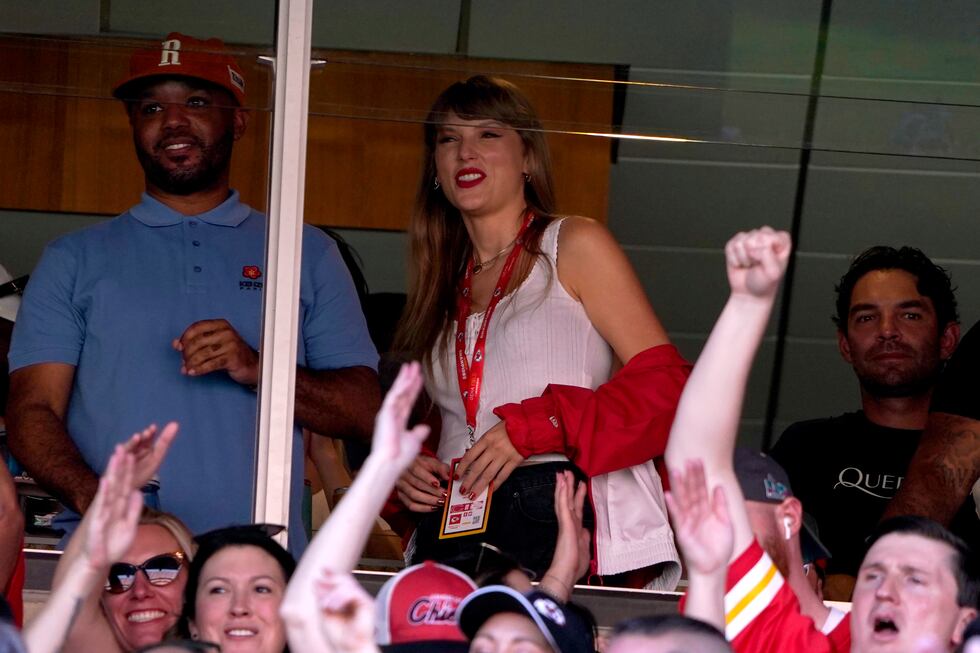 Don't expect Kelce to be so open about the relationship going forward, though. On the podcast, Travis said he wants to respect both his and Taylor Swift's personal lives.
"She's not in the media as much as I am doing this show every single week and having fun during the NFL season," Kelce said. "I'm enjoying life and I sure as hell enjoyed this weekend. So everything moving forward, I think talking about sports and saying 'alright now' will have to be kind of where I keep it."
Rumors of the two dating began to take form in early September. Kelce said on the New Heights podcast he wanted to give Swift a friendship bracelet with his phone number on it when he attended her Kansas City concert. Kelce found out at the concert that Swift doesn't talk to fans before or after her shows.
A New York content creator known as HIJO took a picture of Kelce outside club Zero Bond in New York on July 19. Swift is known to frequent the members-only club.
But Jason Kelce added fuel to the Taylor-Travis fire by stating on a Philadelphia radio show that he thought the rumors were "all 100% true."
In an appearance last Thursday on the Pat McAfee Show, Kelce implied that he invited Swift to Kansas City for the Bears game.
"You miss 100% shots you don't take, baby," Kelce said.
Copyright 2023 KCTV. All rights reserved.