Southeast Mo. State planning 'homecoming celebration like no other'
Published: Sep. 25, 2023 at 10:16 AM CDT
|
Updated: Oct. 12, 2023 at 7:45 AM CDT
CAPE GIRARDEAU, Mo. (KFVS) - Homecoming at Southeast Missouri State University is set for October 9 through Oct. 14.
The university said they are continuing to celebrate their 150th anniversary with a 'homecoming celebration like no other' with a week full of events for alumni and students.
Events include campus tours, block party, parade awards, SEMO football and more.
"For anyone wanting to enjoy SEMO's Homecoming this year, we have done the planning for them," said Southeast Missouri Director of Alumni Relations George Gasser in a released statement. "In addition to the Awards Ceremony on Thursday, Friday will be filled with our alumni speaking to current students in classes. We are also offering alumni the opportunity to take a campus tour or tour some of our innovative learning spaces on Friday afternoon to see how much campus has changed."
New this year will be the university's first-ever Homecoming Kickoff Block Party. This will take place on Friday, Oct. 13 on Normal Avenue.
The block party will offer food, local venders, SEMO branded spirits and beer partners and activities for kids.
SEMO said there will also be a "big" announcement during the block party at 5:30 p.m.
The annual homecoming parade will be held at 9:30 a.m. on Saturday, Oct. 14, followed by the homecoming football game against Eastern Illinois University at 2 p.m. at the new Houck Field.
The university said there will be plenty of free parking.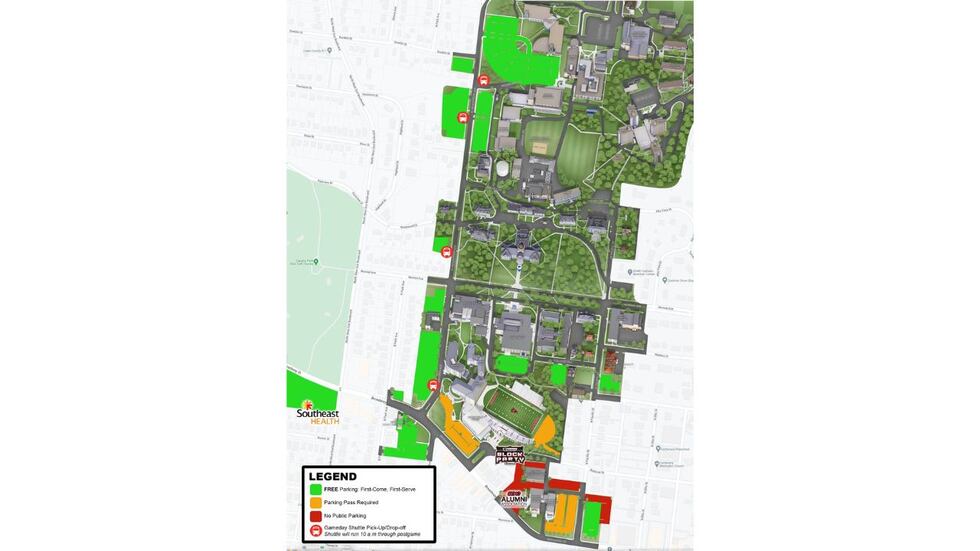 All the areas highlighted in green are free, and this includes the Southeast Health employee parking lot across from Capaha Park. The lot is just a few blocks from the stadium and adds about 200 free parking spaces.
For more information on all the homecoming events, click here.
Copyright 2023 KFVS. All rights reserved.