Woman dies after tire smashes through windshield in freak accident on I-44
Investigators are still seeking witnesses to the accident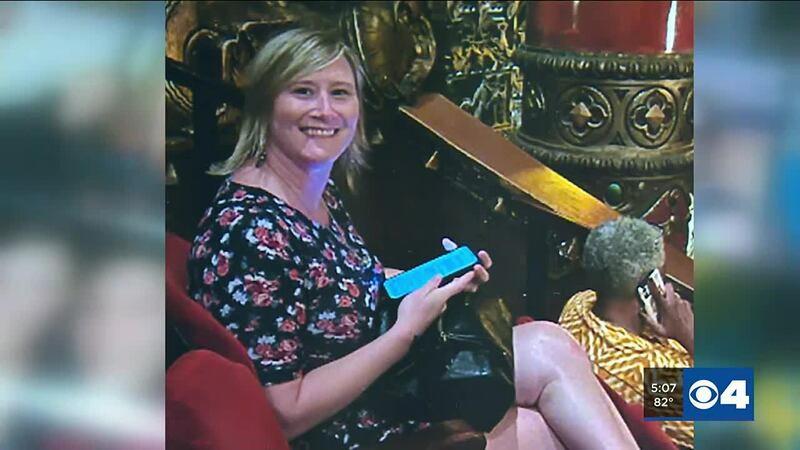 Published: Jul. 25, 2023 at 6:33 PM CDT
|
Updated: Jul. 31, 2023 at 10:26 AM CDT
ST. LOUIS (KMOV) -- The Missouri State Highway Patrol is investigating an incident on I-44 on July 22 that left a St. Charles woman hospitalized with swelling on her brain. According to relatives, 38-year-old Emily Ludwig was seriously injured when a loose tire crashed through her windshield.
"They've already told us if and when she wakes up, Emily's not going to be the same person that she was before," said Ludwig's older sister, Betsy Clark.
On Monday, Ludwig's family told News 4 that she will not survive and her organs will be donated.
According to the MSHP accident report, Ludwig was traveling west on I-44 and was just east of Lewis Road when a 15-inch tire came loose from a towed vehicle in an eastbound lane. The report says the tire bounced over the median and struck Ludwig's Kia Sorento, crashing through the windshield and hitting her head.
Investigators say the driver didn't stop and may not have known at the time that a tire came off and struck another vehicle. Troopers are checking surveillance video at convenience stores and truck stops along the interstate.
"Somebody has to know who it was. The driver knows by now, I would think, that their tire's gone. They have to wonder what happened to it," said Clark.
Clark said her family just wants answers about what happened. The Missouri State Highway Patrol is asking anyone driving on I-44 Saturday between 6:15 and 6:30 p.m. who may have seen what happened or saw a vehicle being towed to contact Troop C in Weldon Spring at 636-300-2800. Drivers may not know that what they saw could be important to the investigation.
A GoFundMe account has been set up to help with funeral expenses.
Copyright 2023 KMOV. All rights reserved.