Family of man who died after eating oysters speaks out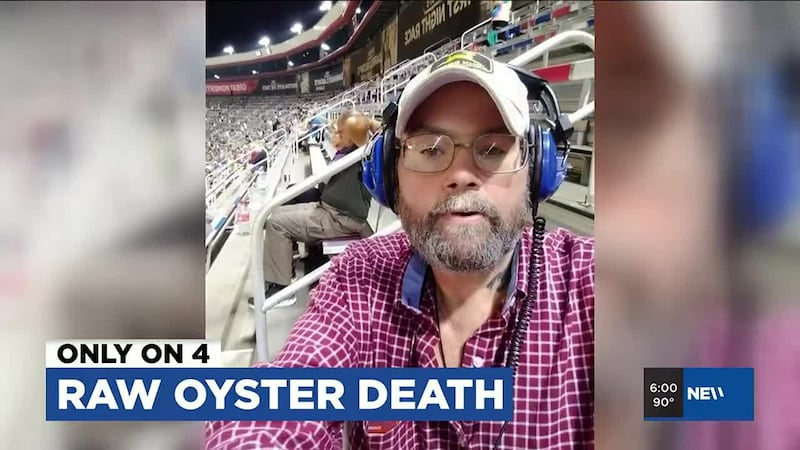 Published: Jun. 15, 2023 at 6:32 PM CDT
ST. LOUIS, Mo. (KMOV) - 54-year-old Michael Rue is being remembered as someone who was very sociable. His daughter, Heather Dudley, also said he was adventurous about the foods he ate.
Employees at The Fruit Stand and Seafood Market on Manchester Road in Manchester remember him as a regular customer. He bought a batch of raw oysters at the business on June 3.
Dudley said her father ate the oysters on Tuesday, and the next day he started feeling bad.
"And then, by Wednesday night, he was in a whole bunch of pain. He was complaining about a whole bunch of leg pain," she said.
The pain was so severe that an ambulance was called. Rue was taken to St. Clare Hospital in Fenton. Family members found out later that Rue had been infected by a type of bacteria that can be found in raw oysters.
"He was literally being eaten from the inside out," said Dudley.
Rue's condition deteriorated rapidly, and he died on Thursday.
According to the CDC, certain strains of vibrio bacteria are found more often in the tissue of oysters during the warm summer months. The bacteria can cause severe illness and bloodstream infections.
An estimated 80,000 people each year in the U.S. are sickened by the vibrio bacteria, and 100 people die from it.
Dr. Kanika Cunningham is the director of the St. Louis County Department of Public Health.
"Sometimes individuals who already have weakened immune systems can be at a higher risk of experiencing really bad infections," she said.
Cunningham said the health department inspected The Fruit Stand and Seafood and found it was following all proper procedures for handling raw oysters. She said the oysters had likely been shipped to the business already infected with the bacteria.
Store manager, Tyler Henson, said Rue was a loyal and well-known customer.
"We're deeply saddened that this has happened," he said.
Henson said the store is only selling frozen oysters now.
Dudley said her father's sudden and shocking death has turned the family's world upside down. A GoFundMe account has been set up to help pay for funeral expenses.
Copyright 2023 KMOV. All rights reserved.