Trail camera captures images of black bear near Pleasant Hill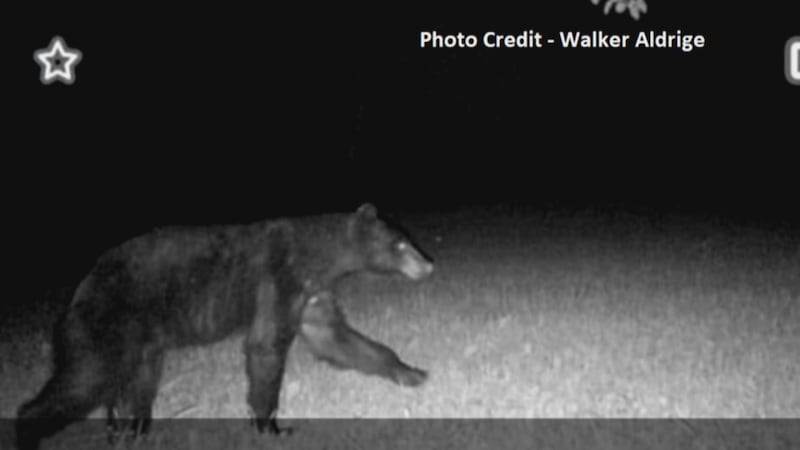 Published: Jun. 6, 2023 at 7:05 PM CDT
KANSAS CITY, Mo. (KCTV) - A trail camera just south of Highway 58 snapped a photo of an unusual creature roaming Cass County.
The Missouri Department of Conservation confirmed that a photo circulating on social media showing a black bear was legitimate.
Though the Kansas City area has only had a handful of sightings in the past few years, the department said the state's bear population is growing and spreading.
Nate Bowerstock, the state's fur bear biologist, said Missouri is now home to around 900 bears despite the population nearly dying out a few decades ago. He said that, in the next decade, the population could double.
As bears continue to thrive and sightings become more common in northern parts of the state, Bowerstock said sightings will become more common in the area. He emphasized the importance of securing potential food sources for bears, such as bird feeders and garbage cans. The department also cautions against approaching wild bears.
"Missouri is bear country," Bowerstock said. "If you see signs of bear activity, we want to know about it. Then, we can let your community know if there is bear activity so we can alter our behavior and we can live together."
The bear was spotted just north of the Rock Island Spur of the Katy Trail. Gil Manda, whose farm is less than a mile from that trail camera, said he wasn't frightened by his new neighbor. However, he did worry a little about the beehives on his farm.
"Every couple of years, you hear about them coming further north," he said. "It's kind of exciting for the state and the bears."
Copyright 2023 KCTV. All rights reserved.