Loyal SEMO basketball fan makes decades of memories in the same seat
Cape Girardeau man has held season tickets since 1963
Updated: Mar. 13, 2023 at 6:30 PM CDT
CAPE GIRARDEAU, Mo. (KFVS) - No matter how many Southeast Missouri State University basketball games you've been to at the Show Me Center, there's one seat you've never been able to sit in.
That's because one very loyal Redhawk fan has held that seat for decades.
If you ask 86-year-old John Hopkins of Cape Girardeau, section 106, row Q, seat 1 is the best seat in the Show Me Center.
"You've got a good view here," said Hopkins. "You can see the scoreboard here, you can see it on the other end and you can watch both ends without turning your head much."
Over the last 35 years, Hopkins has cheered on the SEMO Redhawks from this very spot.
"We've had a lot of ups and downs," said Hopkins. "Some good years and some not so good. But we enjoyed all the games."
Hopkins has had the same seat since the Show Me Center first opened its doors in summer of 1987, but his love of SEMO hoops dates much further back than that.
"It was the same at Houck Field house," said Hopkins. "Same seats."
In fact, Hopkins and his family have held season tickets every year all the way back to 1963.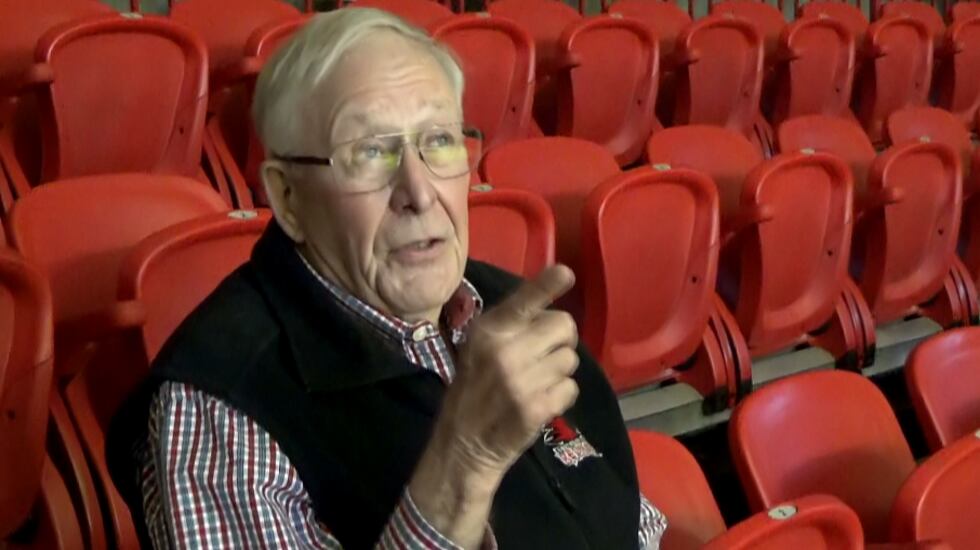 "We have seen a lot of basketball games over the years. I have no idea how many, but we tried to attend all of them," Hopkins said.
Hopkins said he remembers a game day decades ago when, after a 2-foot snow, his father-in-law brought over a backhoe to dig him out just so they could go watch their team play.
"He said, 'I'll be down for you afterwhile to get you,' and I said, 'Why? We're not supposed to be out on the roads.' He said, 'We're going to the ball game."
If SEMO was playing at home, you'd better believe Hopkins made every effort to be in his seat to support them.
"Probably 8-10 games a year, and here 60 years plus, so we're talking about 600 games probably," said Hopkins.
Hopkins said he's not up for much travel these days, even to watch SEMO in the Big Dance. So, when SEMO plays in Dayton, Ohio Tuesday he'll be cheering them on from his second favorite seat - his couch.
Watch our full special, Redhawks Soar, below.
Copyright 2023 KFVS. All rights reserved.