Two Missouri high school basketball teams come together on the court after death of a player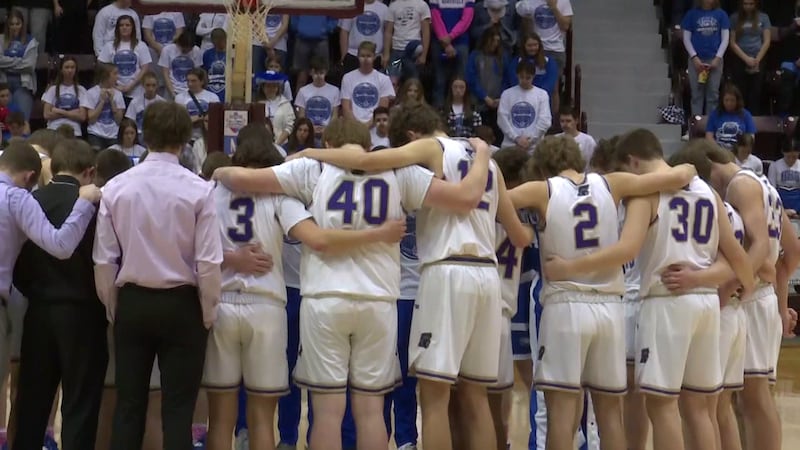 Published: Mar. 10, 2023 at 10:33 PM CST
SPRINGFIELD, Mo. (KY3) - In seats normally filled with maroon there was a sea of purple at Hammons Student Center at Missouri State University. The change in color was for Salisbury, Missouri basketball player London White who died on Monday.
Salisbury was set to play a playoff game scheduled in Springfield against Hartville. They could have sat this one out, but London's family encouraged the team to go forward.
"I wasn't sure what we were going to do," said Salisbury Head Coach Kenny Wyatt. "We needed the blessing from the family. And they were here today and supporting us."
And with Salisbury still reeling from the loss of their teammate, in the week Hartville decided that even though they are going head to head that night, they wanted to do something special before the game. The two head coaches talked before the game about a joint prayer in the middle of the court.
But Hartville Coach Brett Reed and his squad decided that they wanted to do more.
"We wanted to pay tribute to him," said coach Reed. "And his family and those players over there, and the coaching staff, and this is the only thing that we really thought of that, that we could do in this in this environment. We're sorry, our hearts hurt for them."
Hartville is usually donned in blue and white. In this game, however, they wore a bright eye-catching violet. Salisbury's colors. During warmups, the team rushed out of the tunnel wearing shirts with the words "Salisbury Strong" on the back. A surprise for everyone on the grief-stricken team.
"That was a great gesture," said Coach Wyatt.
The Salisbury players, however, with the weight of the death of a friend, teammate, and brother pushed ahead and won the game. London wore number 20, and in the 4th quarter, Salisbury scored a meaningful 20 points.
To report a correction or typo, please email digitalnews@ky3.com
Copyright 2023 KY3. All rights reserved.