Gov. Beshear: Phase 1C to open up to 50 and older Monday, extended hours for bars and restaurants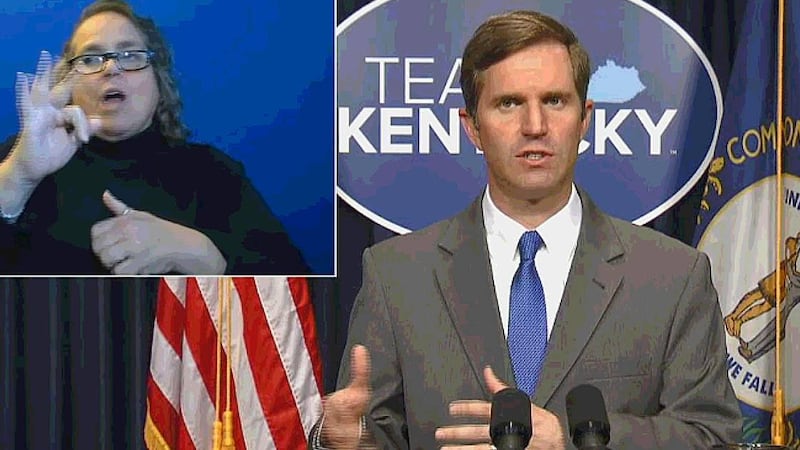 Updated: Mar. 18, 2021 at 3:29 PM CDT
FRANKFORT, Ky. (WAVE) - Governor Beshear provided an update Thursday on COVID-19 and the commonwealth's continued vaccine rollout.
Starting off, Beshear announced new, free-of-charge transportation for those in need to get to and from vaccine appointments. Scottsville Transit, Owensboro Transit System, and Murray-Calloway Transit Authority will be providing rides to and from appointments in western Kentucky, adding on to the multiple transportation agencies already offering free rides.
A full list of agencies can be found here.
Updated guidance for bars and restaurants will also be going into effect starting Friday, March 19. Businesses can now serve until 12 a.m. and doors should be closed at 1 a.m., pushing back current guidelines by one hour.
While capacity and mask mandates do not change in the new guidance, Beshear said this should allow more relief for business owners as vaccines continue to roll out.
"Hopefully this is a little bit of relief given the positive movement of where we are right now as a state with vaccines going up and cases going down," Beshear said. "But let's not mess this up. We have two months and a couple weeks until who wants a vaccine gets it. Let's not mess this up."
Beshear also announced Monday, Phase 1C throughout Kentucky will open up to residents 50 and older. In addition, with continued vaccine production, April 12 is when vaccine eligibility is expected to open up for those 16 and older.
"That is the drop dead date for when we expect to open vaccine eligibility for everybody," Beshear said.
Three new mass vaccination sites were announced Thursday, including Cardinal Stadium, KY Dam Village State Resort Park in Gilbertsville, and the Shawnee Neighborhood Initiative at Whitney Young Elementary in Louisville.
UofL Health will operate the Cardinal Stadium mass vaccination site in the Purple Lot, with 24 lanes administering doses at a single time once it opens up, totaling around 4,000 doses a day.
Scheduling appointments for the Cardinal Stadium mass vaccination drive-up site will go online March 31, with appointments beginning April 12, according to Beshear.
With the three new sites, Kentucky will now have 570 total sites to get vaccinated.
Governor Beshear confirmed 785 new cases of COVID-19 in Kentucky Thursday, with the total number of cases in the commonwealth since the pandemic began to 419,149.
An additional 31 deaths due to COVID-19 were also confirmed Thursday. Total number of deaths due to COVID-19 in Kentucky is now 5,504.
Beshear also mentioned that the first audit of COVID deaths had been completed, showing 604 unaccounted deaths between the months of November and January. Beshear said that 200 deaths were reported from long-term care facilities.
Kentucky's positivity rate is now 3.23 percent, which Governor Beshear said is the lowest since July 3.
In vaccination updates, 1,082,303 people within Kentucky have been fully vaccinated in Kentucky, with at least 1,231,965 receiving their first dose.
Other information provided in Thursday's update includes:
Patients currently hospitalized : 449

Patients currently in ICU : 110

Patients currently on a ventilator : 57
To find a regional vaccination location, click here. Other sites include those set up through partnerships with Kroger, Walmart, Walgreens and other local businesses and pharmacies:
To find out who falls under each vaccine phase, click here. Individuals who want to know if they qualify for the vaccine can click here to fill out a survey or call (855) 598-2246.
The Kentucky COVID-19 Hotline can help with all other vaccine questions at (800) 722-5725.
For additional information on COVID-19 in the commonwealth, visit the Team Kentucky COVID-19 website.
Copyright 2021 WAVE 3 News. All rights reserved.