10 horses dead, 15 saved after large stable fire in Cape Girardeau Co., Mo.
Updated: Feb. 19, 2021 at 4:46 PM CST
CAPE GIRARDEAU COUNTY, Mo. (KFVS) - Multiple Heartland crews battled a barn fire in Cape Girardeau County on Thursday night, February 18.
"It's just a huge devastation, because these horses are our life. And they're our family, and we grew up with them," said Emily Peters, whose horse survived the barn fire. "He was in the barn when the fire started and a worker got him and some other horses out very quickly, and we're very thankful for that."
Crews were called to the Fox Run Riding Academy stables around 6:40 p.m.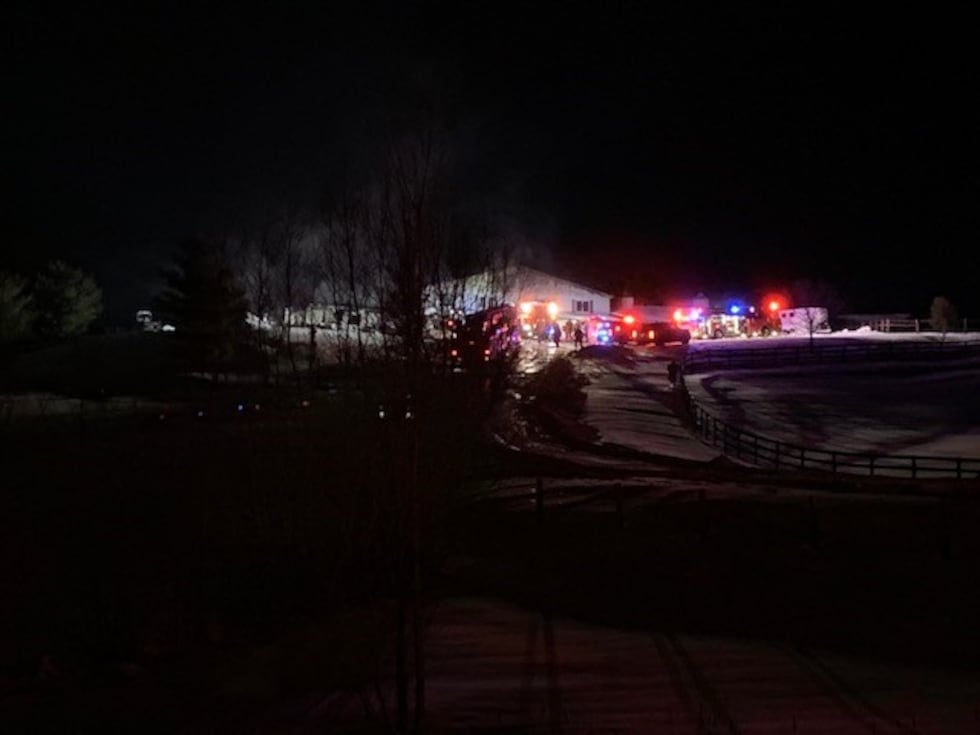 According to Cape Girardeau Fire Department Interim Fire Chief Randy Morris, when firefighters arrived, 40 percent of the building was engulfed in flames and some areas had collapsed.
Interim Chief Morris said it was difficult fire to fight due to the weather and access to area.
The Missouri State Fire Marshal was called in to investigate.
The cause of the fire is unclear at this time.
Cassie Zimmerman, the Fox Run barn manager, said 10 horses died in the fire. Of those, eight belonged to Fox Run and two were horses being boarded at the academy.
"This is the worst nightmare anybody could ever have," she said.
Zimmerman said 15 horses were saved from the fire.
She said the horses teach children love and responsibility, so this will be a "huge hit" to the riding community.
"This was a happy place for everybody," Zimmerman said. "It was an escape from the real world. And that's where it's going to be really sad for a lot, a lot of people and kids. I could only imagine for these kids what they're going to be going through, because they lost some of their best friends."
She said Fox Run will "make it through," and she said she's appreciative for the love and support from countless people.
"When things happen like this, it's great to know that people have your back," Zimmerman said.
A Gofundme was set up for the academy.
The fundraiser aims to replace damaged items and to help Fox Run "get back on it's feet."
"I was absolutely in shock, and I couldn't believe it. And it just was like a wave of emotions just hitting me all at once. It was so terrible and so tragic," said Emily Peters.
A veterinarian was also on the scene.
No people were inside the stable at the time of the fire.
According to the Fox Run Riding Academy website, the stable was established in 2006.
They provide riding lessons, trail rides and other services.
They are located at 121 Fox Run Lane in Cape Girardeau.
Crews from the East County Fire Protection District, the Cape Girardeau Fire Department, Gordonville Fire Department and Jackson Fire and Rescue responded to the fire.
Copyright 2021 KFVS. All rights reserved.