Swimming pool sales receive boost in midst of COVID-19 quarantine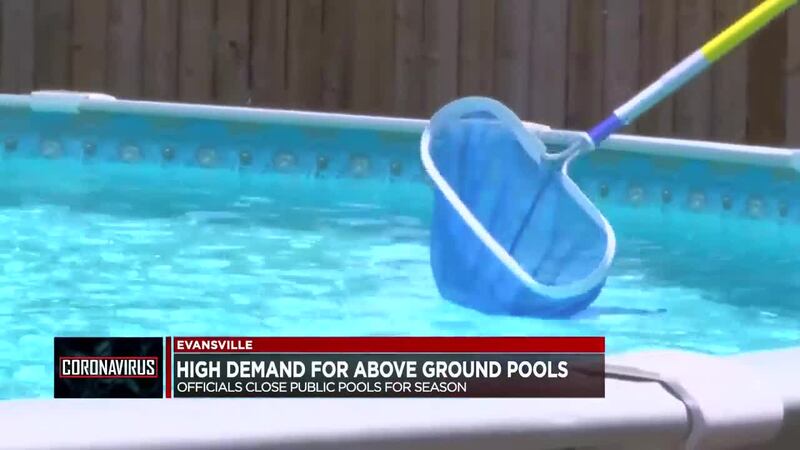 Updated: May. 14, 2020 at 11:46 PM CDT
EVANSVILLE, Ind. (WFIE) - Families all over the Tri-State are looking for more things to do at home as summer begins.
Some are looking at buying above ground swimming pools.
Earlier this week, Evansville and Vanderburgh County officials announced they would not be reopening public pools for the summer season.
Darla's Oasis Pool Store and Service has seen a huge increase in customers looking to buy above ground pools.
"We're doing all types of service, and we actually had to add a crew this year so we could accommodate everybody and get them done in a timely manner," Owner Darla Brackett said.
The Walls family owns a backyard that is waiting for one of Darla's pools. They're hoping it will keep their daughter occupied.
"You know, even with businesses opening back up, just with her and us too, we're just reluctant to go out." Heather Walls said. "Even though we have activities here, and neighbors and things to keep her occupied, it was just a decision that we wanted to make to bring a little bit more enjoyment to our summer, and for our sanity as well​."
"Family time with our pool is what we enjoy the most - the memories we can make, all of our friends coming over," Brackett said.
The Wall family is expecting their pool to be fully functional by June, and their daughter is over the moon.
"She's been telling everybody we're getting a big pool and we're going to go underwater," Walls said. "So she's really excited about it."
City and county officials say they're closing pools to promote social distancing, as well as for safety reasons due to the lack of certified life guards at the moment.
Copyright 2020 WFIE. All rights reserved.