Hemp farmers gather to discuss options after some say local processing plant not honoring contracts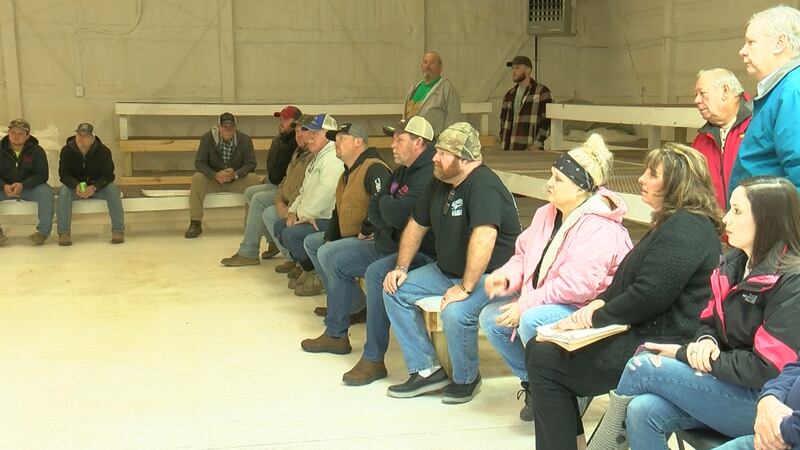 Updated: Jan. 28, 2020 at 9:18 PM CST
KENTUCKY (WFIE) - Several Western Kentucky hemp farmers are claiming a local hemp processing plant isn't honoring their contracts.
Some growers say they have not been paid in a contract they're in with Bluegrass BioExtracts in Owensboro.
Several growers joined together on Tuesday to talk about their options.
Lisa Lovell, a hemp grower from Henderson, says growing in the hemp industry sounded like a good idea. She says they met with the original founders of Bluegrass BioExtracts in the spring of 2019.
"After we went home and discussed it, it sounds like a win-win situation. It's close to us, in Owensboro...," said Lovell.
She says they had invested a lot, including taking out a second mortgage on her home.
Now she says Bluegrass has new owners. She also says they haven't been paid on any of the contracts they had with the company. Several other growers we spoke with say they haven't been paid in their contracts with Bluegrass either.
"When we got to deliver, and then they come back and tell us we either have heavy metals or are high in pesticides," said Mark Allen, a grower from Hancock Co. "When we picked our stuff up to take home, and some of the people had retested, and then it comes back, and it's okay. Well, now they don't want to honor the contracts."
Those growers showed up to John Fuller's facilities on Tuesday. Fuller is a grower out of Ohio County. He said he also has had issues with Bluegrass BioExtracts.
Fuller says Bluegrass refused his products, saying it didn't meet heavy metal standards. He says he's retested his crop and says that Bluegrass BioExtracts told him they would also retest his crop.
We also reached out to the company to ask about those other farmer's crops. We left a message, but haven't heard back.
The growers spent Tuesday morning exploring their options. Some of those growers talked about potential legal options. Other growers wondered what to do with their crop, which they say was supposed to go to Bluegrass.
"I actually went back and picked up my crop at Bluegrass and brought it back home, and now it's sitting in my shop waiting for a buyer," said Chris Kramer, another grower from Hancock County.
"It's sitting on a box trailer, ready to deliver with no one to go to at the moment," said Donovan Washer, who made the trek from Trigg County to be at Tuesday's meeting.
On January 21, the original owners of Bluegrass BioExtracts filed a lawsuit against Bluegrass BioExtracts and their new owners, as well as DTEC Ventures.
The suit alleges the buying company violated the purchase agreement with the original owners and failed to honor grower contracts.
We also reached out to the company spokesperson to ask about those other farmer's crops and left a message. We haven't heard back.
We reached out to the attorneys for Bluegrass BioExtracts for comment about the lawsuit. Our phone messages there haven't been returned yet either.
This is a story we will continue to follow.
Copyright 2020 WFIE. All rights reserved.