Kentucky governor candidates talk Trump ahead of visit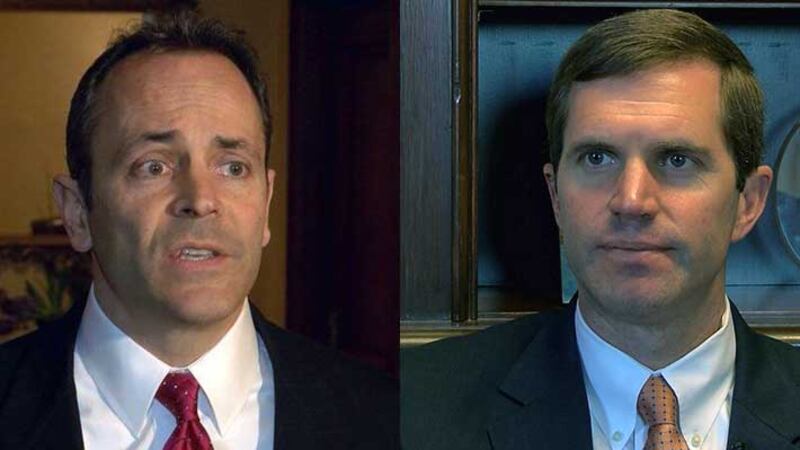 Updated: Oct. 21, 2019 at 9:40 PM CDT
LOUISVILLE, Ky. (WAVE) - Donald Trump will be coming to the Bluegrass state to stump for Kentucky Governor Matt Bevin as he defends his office against Attorney General Andy Beshear.
The President is holding a rally at Rupp Arena in Lexington the night before the election.
Both President Trump and Governor Bevin have said a rally would materialize for months.
Candidates still disagree though over the importance of national politics in the commonwealth.
"This race isn't about the White House," Beshear said. "It's about what's going on in your house."
The two put that point of contention on display during the Kentucky Debate that aired on WAVE 3 News last week.
"They can be called national issues, but guess what, they are near and dear to the people of Kentucky," Bevin said. "So, it is a combination of both. You will see this race be a proxy in some respects."
During the debate, Governor Bevin leveraged his relationship with the president, who tweeted in support of him within the last week.
"I've made clear that I stand with this president," Bevin said. "I will work with this president. I appreciate that he's putting America first. Andy Beshear has made clear that he will work to undermine President Trump and that he actively opposes the policies of this president. I don't think he should be impeached. He does."
Beshear responded when asked after the debate, stating that's not necessarily how he feels, but added he doesn't think politics and foreign policy should be mixed when it comes to Ukraine.
"I'm the state's top prosecutor," Beshear said. "I could only support impeachment if I saw evidence and saw actual facts and all I've done is read news stories. What I can say is, any proceeding that is moving forward has to be fair, has to be impartial and it can't be about scoring political points on cable news."
Beshear applauded Trump for expanding funding for his administration's cold case unit, but did fire back that he disagreed with the president's treatment of expanded Medicaid.
In 2016, Trump carried Kentucky with more than 60 percent of the vote.
Copyright 2019 WAVE 3 News. All rights reserved.