More than 100 men and women deployed to Guantanamo Bay
Updated: Aug. 23, 2019 at 6:27 PM CDT
LOUISVILLE, Ky. (WAVE) - The Kentucky Army National Guard's 223rd Military Police Company is being deployed to Guantanamo Bay.
More than 100 men and women will leave Saturday. It has been nearly 11 years since the unit was deployed. Details about its new mission are private.
The deployment is a sacrifice for all. Nina Wolf's son is being deployed and she says it's a day she's not been looking forward to.
"It's the day I've been dreading since he signed on the dotted line two years ago so a lot of emotions," said Wolf.
The Wolf family was thinking about life moments being put on pause and what's to come.
"If his worst injury is sunburn so be it," Specialist Wolf's father, Ron Wolf said.
Specialist Kurtis Wolf proposed to his girlfriend Brittany Kane less than a week ago.
"It was very awesome especially for a man dating a woman with an autistic son," said Kane. "I have a four year old son that thinks the world of him."
Now, instead of spending that time time his family, Specialist Wolf will be in Guantanamo Bay for about a year.
Specialist Wolf said thinking of his fiancé will keep him strong during his deployment.
Tanisha Pointer also has a son being deployed.
"I don't think it's hit me yet, but this is his son I think it will affect him more than me," said Pointer.
This will be the longest Pointer's son Xavion Rigsby will be away from his son.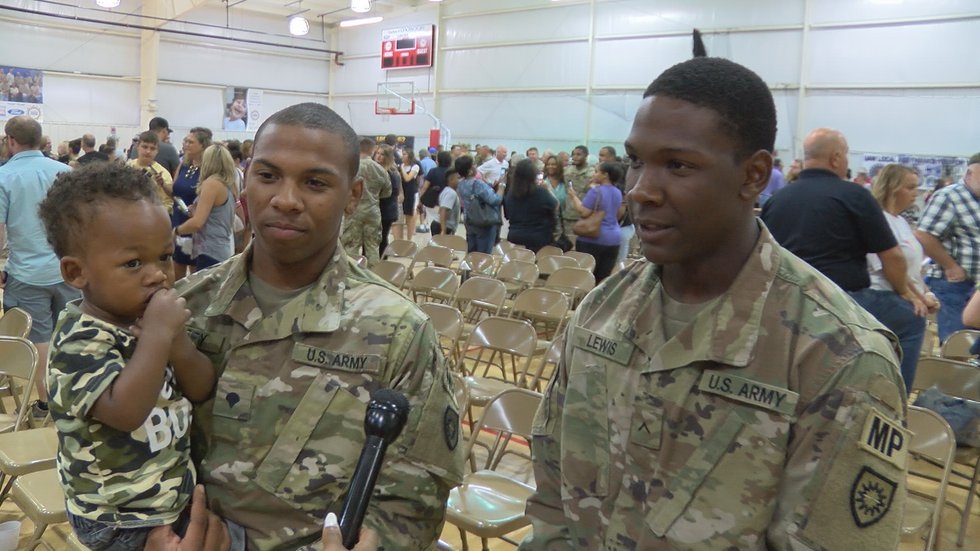 Pointer says he feels comfort knowing his brother, Dequantez Lewis, will serve by his side.
"Brother in arms, I'm my brother's keeper," said Rigsby. "We actually brought our games so we can play those together."
Families don't know exactly what the soldiers will be doing or what they'll going through oversees.
Before the parents see their children head out they're already praying for their safe return.
This unit was last deployed to Iraq in 2008.
Copyright 2019 WAVE 3 News. All rights reserved.