Last day of legislative session keeps KY lawmakers busy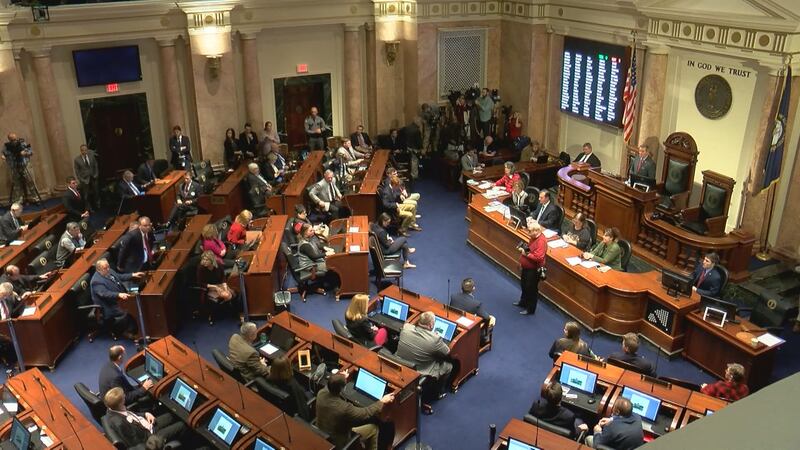 Updated: Mar. 14, 2019 at 11:08 PM CDT
LOUISVILLE, KY (WAVE) - Lawmakers passed a lot of bills in the final hours of this legislative session in Frankfort on Thursday.
Bills passed included pieces of legislation that both have bipartisan support and draw the two parties against each other.
An emotional moment came leading up to the unanimous house passage of a bill that allows for those convicted of a DUI to opt for an ignition interlock device, and possibly shortened license suspension.
Tearful lawmakers noted some of their family members were victims of drunk drivers.
Division came with House Bill 114 -- which ultimately passed with an amendment with language similar to SB 34, stripping power from the Secretary of State's Office.
While some called it political games, others said it was a needed check on the office following allegations of abuse reported by ProPublica.
There was a bit of a preview of the politics of the upcoming governor's race.
The House passed SB 9 -- the fetal heartbeat abortion bill -- with a 71 to 19 vote.
Democratic governor's candidate, House Minority Leader Rocky Adkins, voted for the bill.
And Rep, Robert Goforth, the Republican challenger to pro-life Gov. Matt Bevin, claimed on the floor that a similar bill he filed was not voted on because of his intent to run against Bevin.
"Because I'm running against him and I spoke up for my constituents, my bill is not getting heard," Goforth said. "May god bless you. May he bless the cause in which you fight and I fight."
Some lawmakers had strong negative opinions about the abortion bill.
"This is yet another attempt to criminalize women, and their families and their doctors," Rep. Mary Lou Marzian (D-Louisville) said.
The ACLU noted that it will sue the state because it believes the bill is unconstitutional, adding they believe it would ban abortion as early as six weeks of pregnancy.
A bill requiring the U.S. national motto "In God We Trust" to be displayed in public schools across the Commonwealth also found final passage.
"It's part of our cultural heritage," Sen. Stephen Meredith (R-Leitchfield) said. "From the beginning of this nation, we've talked about the divine providence we have wrapped ourselves in."
Sen. Minority Leader Morgan McGarvey (D-Louisville), disagreed: "Religion flourishes in greater purity without, rather than with, the aid of government."
Senate Bill 100 is the net metering solar energy bill that drew criticism early in the session. An amendment was added by the House to sooth concerns that power companies would be prioritized over individual consumers, but ultimately passed without the changes.
After Thursday, there is only one legislative day left in the session. That will be on March 28.
Until then, the governor will be able to veto bills he does not want to see passed.
Bevin vetoed 10 full bills last year, and made line-item vetoes to specific parts of other bills three times.
The most notable veto in 2018 was tax legislation that ended up concerning nonprofits. The general assembly overrode that veto last year and passed clean up legislation this session.
While the override of a presidential veto needs a two-thirds majority, the state legislature in Kentucky only needs more than half of lawmakers to defeat a veto.
That happened five times last session.
Copyright 2019 WAVE 3 News. All rights reserved.