State of Emergency declared for Ballard, McCracken Counties due to tornado damage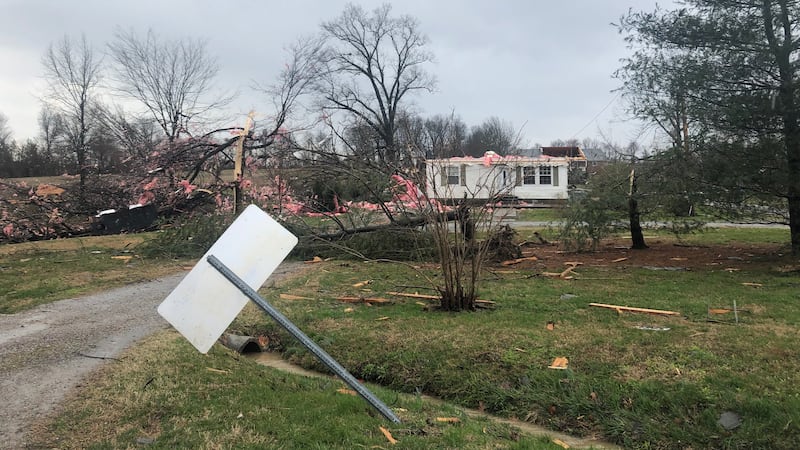 Updated: Mar. 15, 2019 at 6:45 AM CDT
(KFVS) - The McCracken County and Ballard County Judge Executive Offices have declared States of Emergency for the counties.
Ballard County EMS Director Travis Holder and the judge executive issued the State of Emergency in Ballard County due to the damage.
They believe it was the same tornado that started at the Carlisle County-Ballard County line and went through the Lovelaceville community and straight into McCracken County.
Anyone with questions can contact EMS at 270-665-9928.
The National Weather Service confirmed a tornado touched down in McCracken County, Kentucky on Thursday, March 14. They say a preliminary report shows EF2 tornado damage in McCracken County.
According to the NWS report, the peak wind was 125 mph with a path of nearly 17 miles in length and 300 yards in width. There was 1 injury.
The twister began at 9:18 a.m. one mile NW of Cunningham, Ky. just west of Hwy. 1628 and the intersection of 1820.
It ended at 9:34 p.m. four miles west of downtown Paducah, Ky. just east of Coleman Rd.
According to the NWS, the tornado quickly intensified and widened, reaching 300 yards wide on Blandville Road, west of Lovelaceville. The tornado further intensified, reaching a maximum intensity of EF2, intermittently from north of Lovelaceville on Hamburg Road to just southeast of the Barkley Regional Airport on Highway 1565 (Mayfield-Metropolis Road).
The tornado`s maximum intensity occurred along Blandville Road and Fisher Road, where at least ten vehicles sustained damage. Several other vehicles had windows blown out at the Kentucky Oaks Mall area. The Kentucky Oaks Mall received roof damage and metal fascia. A nearby strip mall received similar damage, as well windows blown out.
At least a dozen homes sustained major structural damage, including at least partial loss of roofs, or walls blown outward and windows blown out. Dozens of barns, outbuildings, garages, and/or grain bins were destroyed.
Hundreds of trees were uprooted, snapped and there were many broken branches.
Four cows were killed near Lovelaceville on Hamburg Road.
Mt. Zion Baptist Church had much of the roof structure of the sanctuary blown off, as well as part of a second story exterior wall. One business recieved major damage with the back of the building blown inward.
According to Kentucky State Police, first responders were notified at around 9:20 a.m. on Thursday of a tornado in West Paducah.
Approximately 5 square miles of western McCracken County were affected by the tornado, including Mt. Zion Pre-School Center on Blandville Road.
"Sgt. Ryan Wilcutt was actually on the parking lot of the Mt. Zion Baptist Church when he observed a tornado on the ground," McCracken County Sheriff Matt Carter said. "His vehicle sustained extensive damage, but he was not injured."
Troopers say there were 40 students at the pre-school at the time of the incident, and although the building received damage, the children and instructors were not injured.
Currently, troopers say there is only one confirmed non-life-threatening injury due to the tornado.
According to McCracken County Sheriff Matt Carter, James Garner, from Cape Girardeau, was in a truck on eastbound Highway 62 when it became entangled in a grain bin that wrapped his truck up and turned it upside down in the middle of the road.
"Rescue crews from the Concord Fire Department and the sheriff's department responded and freed him from that vehicle," Sheriff Carter said. "He just sustained a very minor cut. I want to acknowledge and make clear the almighty hand of God has provided safety to our community."
Garner reportedly worked for Paducah Power and was on his way to work when it happened.
The Kentucky Oaks Mall's power is on back on as of 7:45 p.m. on Thursday. The mall will reopen Friday at 10 a.m. as usual.
First responders are checking all homes in the area to ensure everyone's safety. The American Red Cross is prepared to establish shelter to provide assistance to displaced families that may have been affected by the incident. They are currently operating an evacuation center at Broadway United Methodist Church for residents effected by the storm. This center will be to assist with immediate needs and to provide information. Anyone that may need help finding a place to stay or needing food or water can contact the American Red Cross at 270-570-5197 to get assistance.
Red Cross volunteer teams visited the affected areas on Friday and served meals to residents and responders in the areas. The reception center that was opened immediately after the storm has been closed. Anyone needing assistance is asked to call the Paducah Red Cross office at 270-442-3575.
"It's always to try and get them into some form of permanent housing. Whether its a home fire, its a single event, its a single family or its a tornado that's impacted an entire community, the end goal is to get people into safe sanitary and secure housing and to make sure that they are safe and secure in that."
The McCracken County Sheriff's Department, the Kentucky State Police, and the Kentucky Department of Fish and Wildlife officers will have directed patrols the area. Any trespassers or looters will be arrested and prosecuted. If you do not reside in the affected area, please stay clear to allow crews to effectively do their jobs.
McCracken County Sheriff Matt Carter said they determined there are approximately three homes totally devastated, but no injuries. He said about a half-dozen other homes had minor to moderate damage. They are continuing to assess it.
If you have any damage to report you can contact Emergency Management at 270-448-1530. KSP is requesting the public to stay clear of any downed power lines. Numerous linemen are on scene to restore power to the area. At this time there is no estimated time for power to be restored.
Ed McManus, emergency communications manager with the Paducah Police Department, said they have reports of damage to homes and other buildings. He also said power lines are down in West Paducah and Concord in McCracken County. McManus said they are conducting rescues at this time in McCracken County.
Kentucky Oaks Mall workers say the mall has no power at this time and they are sheltering individuals.
Keith Todd with the Kentucky Transportation Cabinet said crews are responding to damage in western Kentucky specifically at the Barkley Regional Airport also on US Highway 60 and 62.
Todd said they are receiving reports of outages. The area of Lovelaceville was hit hard, according to Todd.
Check road conditions here.
Currently, Kentucky State Police report several roads are shut down due to debris and down power lines. Those roads are HWY 62 east of McKendree Church Road, and HWY 286 east of McKendree Church Road. All traffic into those areas are being diverted across McKendree Church Road to US HWY 60. Traffic traveling on Blandville Road, westbound, is being diverted to Fisher Road and then to US HWY 60. KYTC is reopening U.S. 62 and KY 286 for the Friday morning commute until 8:30 a.m. This is when the roads will close to through traffic to help emergency response along the path of tornado damage.
Emergency management and Kentucky Transportation Cabinet are asking drivers to avoid travel in western McCracken County and southeastern Ballard County for at least the remainder of Thursday.
KYTC personnel are working with utility crews, area fire departments and rescue squads to clear utility lines, downed trees and other debris from an apparent tornado.
As of Thursday afternoon, U.S. 62/Blandville Road is blocked by storm debris between KY 305/Fisher Road and the KY 286 intersection at Milan Station. Many side roads in the area are also blocked.
According to KYTC, crews report pieces of grain bins, barns, homes and other debris blocking the road. Some of the debris cannot be cleared until utility crews arrive to cut power to the area where work is required.
KYTC reports the storm left a path from near Lovelaceville along U.S. 62 to the KY 286 intersection at Milan Station, then along US 62 to the KY 305/Fisher Road intersection in McCracken County. There are more areas of downed trees and power lines reported between U.S. 62/Blandville Road and US 60/Hinkleville Road through the West Paducah area, as well as utility poles down near the U.S. 60 intersection with Olivet Church Road and New Old Road at the west edge of Paducah in the mall area.
The public is asked to avoid these areas to allow emergency responders to work in the area unimpeded.
Anyone trying to travel between Paducah and Ballard County or Paducah and Carlisle County should avoid U.S. 62 and KY 286.
A shopping plaza on Hinkleville Road in Paducah lost power for a little bit on Thursday.
They suspect the downed utility poles on Hinkleville Road were the culprit. We talked to people at Wingstop who were there when it happened and said it caused a couple of headaches.
"We had to stop cooking all the meals that were in the fryer at the moment, and a couple of people had to be refunded that were already sitting down, getting ready to eat. And a few people that had called in or had an online order had to be canceled and they were a little mad."
But, the cashier said they kept the power on and resumed business as usual after the power came back on about an hour later.
He said the worst thing for the business from the tornado was the traffic issue caused by the workers for the utility poles on the street out front.
Power outages Friday, March 15:
Ameren, MO
None to report
Ameren, IL
None to report
Association of Missouri Electric Cooperatives
None to report
Jackson Purchase Energy Co-op
· Ballard County - 2 customers
· Carlisle County - 3 customers
· Graves County - 13 customers
· McCracken County - 83 customers
With very wet grounds due to heavy rain last night and strong winds picking up again today, there will be a concern for uprooted trees. The entire Heartland is under a wind advisory until 6 p.m. on Friday for wind gusts as high as 45 to 55 miles per hour and a high wind warning has been issued for our northwestern counties for gusts as high as 60 miles per hour.
Wind gusts reached upwards of 45 miles per hour Thursday making difficult conditions for drivers. A trucker making his way from northeast Oklahoma to Poplar Bluff said the conditions slowed him down about 30 minutes. He said it's a bit aggravating when you have somewhere to be.
"Especially when it hits you in the side it blows your trailer sideways which pulls your trailer sideways, you know it don't lean your whole vehicle, it just pulls on the back end. And it's high profile but you know you just can't stay straight," said truck driver Jeff Allen.
And the hardest part he said was watching for everyone else on the road. Luckily he said he made it to his destination without any major issues.
Copyright 2019 KFVS. All rights reserved.