Potentially dangerous antibiotics
Published: Feb. 19, 2019 at 10:58 PM CST
Ripley County, MO (KFVS) - Remembering the good times. That's what the Whiteside family is focusing on these days.
"Her life was all about love and teaching us how to love others," said Keith Whiteside.
Keith Whiteside is reflecting on what happened last Spring with his mother.
Kathy Whiteside had just returned from a beach vacation with her husband, Randy.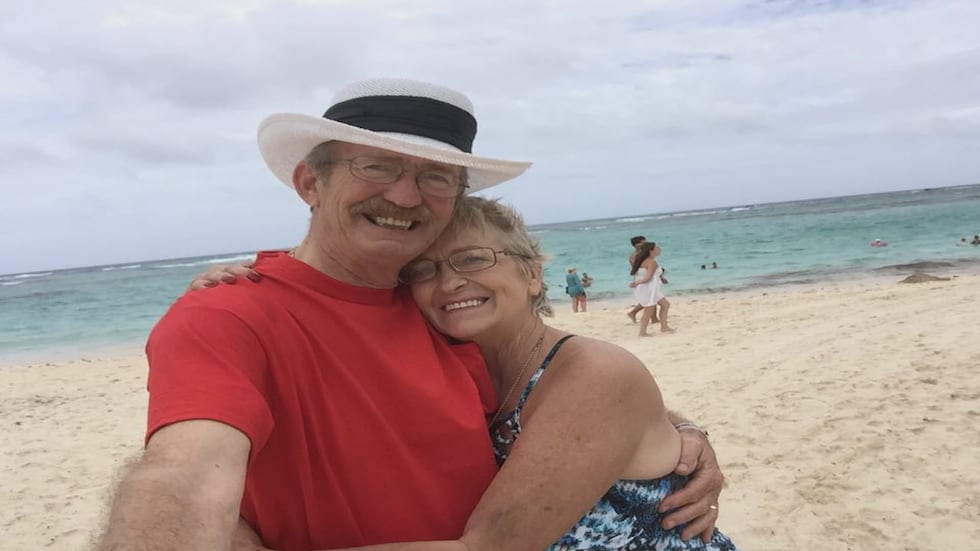 Her family says she was excited about making plans for Easter. With six grandchildren, she was preparing for a celebration that included a big meal.
"She'd contracted a cold and it dropped to her chest," said Randy Whiteside.
That chest cold slowed her down enough that she called her doctor and asked if he would call in an antibiotic. Randy Whiteside says her doctor prescribed the antibiotic, Levaquin.
"She texted me and said he's never prescribed to me this antibiotic before," said Randy Whiteside.
Kathy's daughter, Donna Owen, had spoken with her mother on the phone that morning before she went to work.
Owen said her mother was uneasy about taking the medication after doing a quick internet search.
"We got off the phone and she sent me a picture of the warning," said Donna Owen. Little did Donna know, that would be the last time she would ever communicate with her mother.
On that March day, Randy Whiteside said he and his wife had planned to babysit their grandchildren at their son's house.
Since Kathy wasn't feeling well, she stayed home and Randy went on to babysit the children.
He said he had a hard time reaching his wife throughout the day, but just assumed she was sleeping because she hadn't been feeling well.
He came home that night to something he will never be able to forget.
"She had taken a gun and was right there in the kitchen," said Randy Whiteside.
Randy called his son, and told him the news.
"I came in and walked over to say my goodbyes and I had seen what she had done and what had happened," said Keith Whiteside. "I was so confused, no words. I looked over at my dad and said what in the world?"
No one could wrap their heads around why Kathy would take her own life.
"I would have never thought in ten lifetimes my mother would have done that," said Keith Whiteside.
Levaquin is a fluroquinolone antibiotic. If you have taken Cipro, that drug is also in that class of antibiotics.
The Food and Drug Administration has put out multiple warnings about these drugs, saying they can cause disabling and potentially permanent side effects.
Most recently in December of 2018, an FDA review found that Fluoroquinolone antibiotics can increase the occurrence of rare but serious events of ruptures or tears in the main artery of the body, called the aorta.
These tears, called aortic dissections, or ruptures of an aortic aneurysm can lead to dangerous bleeding or even death.
Side effects also include tendon rupture, and nerve damage as well as psychiatric problems.
Those mental health issues include possible confusion, anxiety and suicidal thoughts.
Even with the warnings, doctors continue to prescribe these types of drugs on a daily basis.
Many will tell you, that's because they work, especially for things like urinary tract infections, sinusitis, and bronchitis.
According to the FDA, those type of antibiotics should be reserved for patients with no alternative treatment options.
"If you Google right now Levaquin and suicide, or Levaquin and psychosis there are copious amounts of articles out there," said Melissa Christian. "This is evidence based research that say, yes this could potentially cause harm."
Melissa Christian is a family nurse practitioner. She considers Fluroquinolone antibiotics as last resort drugs.
"I think I wrote Levaquin twice in the last three years, I don't write the drug, I save the drug," said Christian.
While she is more reserved with prescribing these drugs, she understands why other physicians do so.
"I don't want to come across as someone who writes Levaquin is doing the wrong thing, that's not the case," said Christian. "However, I've had patients who had their tendons rupture from the drug. I had a patient say I took one of those pills and I felt like my skin was going to crawl."
Christian encourages her patients to be their own advocate and ask questions about what medication they are planning to put into their bodies.
She also hopes the government takes a closer look at these antibiotics to see if more needs to be done when it comes to warning the public about the side effects.
"There has to be accountability somewhere, so that's when you start to question the FDA that allows a medication like that out there," said Christian.
Ben Tally has been a pharmacist for 50 years. For him, the people he sees coming in and out of his business are not just customers, they are family.
That's why for Tally, he says he tries to make sure his customers are comfortable with their medications before they leave the pharmacy.
"We need to ask questions about them and make sure as a consumer that you understand the pros and cons," said Tally.
That includes understanding the risks when it comes to Fluroquinolone antibiotics.
"Those are stronger antibiotics, and the problem is we've had to come out with stronger antibiotics because of the overuse of the other antibiotics," said Tally. "This group of antibiotics is very effective, but it can be hard on the body."
For that reason, he says patients need to do their homework and not just throw away the information your pharmacist staples to your medication.
"We've had patients that have taken those (Fluroquinolone) for years, not just the younger patients, but the older patients and haven't had a minutes trouble with it at any point," said Tally. "Then, you'll read about someone who has a major problem with it the first time they use it. Know what you're putting in your body. Nothing is innocuous."
Next month marks the one year anniversary of Kathy Whiteside's death.
"This is a horrible story, the worst story, but still there are people who are taking this crap that are going to live the rest of their lives debilitated," said Randy Whiteside.
While some may question how one pill could cause a person to end their life, the Whiteside family says there's no other explanation.
"She thought of others too much and what that would have done to her grand-babies," said Donna Owen.
The Whiteside family is now on a mission to raise awareness. In fact Randy and his daughter, Donna recently flew to California to participate in a documentary that will focus on dangerous medications.
Randy also doesn't miss an opportunity to share his story with others. "Everyday I'm posting something," said Randy Whiteside.
He uses social media to share Kathy's story, and to communicate with others who have been negatively affected by Fluoroquinolone antibiotics.
"This stuff literally murdered my wife," said Randy Whiteside.
Mallory Mooney also reached out to Heartland News to share her story.
She said it all began for her in 2016 when she was suffering from asthmatic bronchitis.
She said she was hospitalized and given Levaquin through IV.
Mooney then says she was given the same drug in pill form.
"Got home and couldn't sleep for two days straight," said Mooney. "Legs kept going numb, arms felt like pins and needles were poking them."
She says she developed a rash on the side of her stomach, and it then spread from head to toe within days. Her doctor suspected she may be suffering from SJS, Stevens-Johnsons Syndrome.
"My body was burning from the inside out, peeling like crazy," said Mooney. "Throat was peeling from esophagus being burnt, lost chunks of hair, scalp was oozing, arm pits were oozing. I thought I was going to die."
Mooney says she went to see a dermatologist who diagnosed her with Stevens-Johnsons Syndrome, which she believes was caused by the antibiotic, Levaquin.
"During the healing process I had a lot of mental battles I had to fight," said Mooney. "It affected my mental state like something you wouldn't believe."
She says she still deals with debilitating symptoms to this day. "I have numbness in my left arm, light sensitivity, extreme anxiety and I feel depressed at times when I have nothing to be depressed about," said Mooney.
While researching this story, several others reached out to us about their experiences with these types of antibiotics.
We learned about 28-year-old Kyle Greer's story.
The Poplar Bluff man says he developed a urinary tract infection over the summer.
He says he was given Cipro and Levaquin.
"Now I am dealing with a lot of adverse affects from it including tendonopathy, muscle pain, and nephropathy along with a broad array of other symptoms," said Kyle Greer.
Greer says he has been tested for several illnesses and says doctors told him the likely explanation was a reaction to Flurorquinolone antibiotics.
He says he is now seeking treatment from an integrative medicine physician in Colorado.
In our investigation, we found out the maker of Levaquin has stopped making the drug.
However, that drug may still be on the market for another year, and there are still generic versions of the antibiotic.
Here is the response from Janseen Pharmaceuticals:
"At Janssen, our first priority is the well-being of the people who use our medicine." Levaquin (Levofloxacin) has been used for more than 20 years to treat bacterial infections, including those that may be serious or life-threatening. Levaquin is part of the important Fluoroquinolone class of anti-invective prescription medications, and its safety profile remains well-known and established." "We decided to discontinue Levaquin in 2017 due to the wide availability of alternative treatment options, and our focus on developing innovative medicines designed to address unmet medical patient needs. As a result of our voluntary discontinuation of this product, our New Drug Applications for Levaquin (IV and oral solution) were officially withdrawn by US FDA in June 2017." The voluntary withdrawal was formally announced in the US Federal Register. Subsequently, we discontinued the manufacturing of Levaquin tablets in the United States in December 2017. However, unexpired Levaquin tablets may remain on the market until May 2020 and as such, may still be available at some points of sale."
Bayer, the maker of Cipro released the following statement regarding the safety of the drug:
"Cipro (ciprofloxacin) is a fluoroquinolone antibiotic, an important class of medications that treats a wide range of bacterial infections, some of which are serious and can be life-threatening," said David Patti-Deputy Director, U.S. Pharmaceuticals-Product Communications, Specialty Franchise. "All medicines have potential side effects and the risks are outlined in the product labeling.The safety and efficacy of Bayer's fluoroquinolones have been demonstrated in clinical trials involving more than 90,000 patients and extensive clinical experience in more than 800 million patients. Ciprofloxacin was originally approved by the FDA in 1987 and is now widely available as a generic medication that is manufactured and supplied widely throughout the United States by several companies. The health and safety of patients who use Bayer products is our top priority. Bayer closely monitors the safety and efficacy of ciprofloxacin on an ongoing basis, as we do with all of our products. As with any prescription medication, Bayer encourages patients to discuss the risks and benefits of these medications with their healthcare provider."
As mentioned, the FDA has taken steps to warn the public and health care professions about Fluroquinolone drugs.
Here is the agency's response:
"The FDA plays a critical role in detecting and managing safety issues that are identified after a drug is approved for marketing," said Alison Hunt, Press Officer- U.S. Food and Drug Administration. "The FDA continually monitors post-marketing safety of approved drug products, including fluoroquinolones. Some of the sources the FDA monitors include spontaneous adverse event reporting data, clinical trial data, scientific publications and presentations at scientific meetings. Since the 1986 approval of Norfloxacin and subsequent approvals of other systemic Fluoroquinolone antibacterial drugs, the FDA has included the pre-approval safety information in the original drug labels and updated the safety labeling information based on post-marketing sources of information. The FDA briefing document for the Antimicrobial Drugs Advisory Committee and the Drug Safety and Risk Management Advisory Committee (a joint meeting held on November 5, 2015) provides a summary of the information that prompted each safety alert and contains information regarding the total number of adverse reaction reports that were reviewed by the FDA (in the appendix). Based on new safety information, the FDA may issue a post market communication called a Drug Safety Communication (DSC). DSCs include a "Data Summary" outlining the information that prompted each safety alert."
Below are the DSCs that have been issued for the fluoroquinolone antibacterial drugs over the past decade:
"The FDA recognizes that for some serious bacterial infections, the benefits of systemic Fluoroquinolones outweigh the risks, and it is appropriate to have Fluoroquinolones available as a therapeutic option for treatment of these infections. For this reason, and based on what we know today, the FDA has not removed these drugs from the market. In 2016, the FDA required the Prescribing Information for all systemic Fluoroquinolone drugs to state that health care professionals should not prescribe systemic Fluoroquinolones to patients who have other treatment options for several different common, non-severe infections, which include acute bacterial sinusitis, acute bacterial exacerbation of chronic bronchitis and uncomplicated urinary tract infections. The FDA continues to monitor the safety of Fluoroquinolones and will take any necessary regulatory actions as appropriate."
Copyright 2019 KFVS. All rights reserved.