Keeping gas pumps honest
How you can trust you're getting a gallon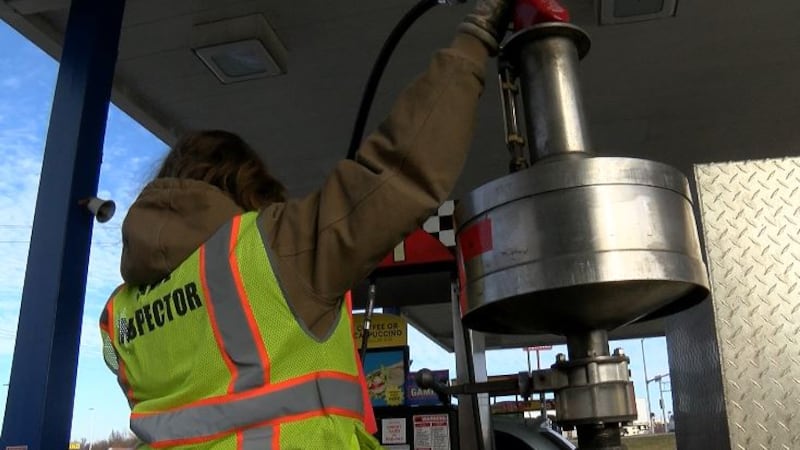 Updated: Feb. 7, 2019 at 5:20 PM CST
MT. VERNON, IL (KFVS) - One look at the gas station sign and drivers know what they'll pay per gallon. What they don't know is if they're really getting the full gallon, and as gas prices go up, drivers can't help but be suspicious.
"I pull the nozzle out, and it's still dripping and I'm wondering am I not getting that gas? Is that not going in? Am I getting what I should?" asked Dena Hall of Mt. Vernon, Illinois.
How can you know for sure that you're getting what you pay for?
"I really don't know," said driver Greg Oaks. "But I do wonder."
That's the job of Bureau of Weights and Measures inspector Julie Reifschneider of the Illinois Department of Agriculture. She keeps the pumps honest.
"Once a year the Illinois Department of Agriculture Bureau of Weights and Measures has to inspect both the labeling and the accuracy of the meters of gas pumps," Reifschneider said.
Reifschneider conducts surprise inspections on every pump at every gas station.
"To make sure that the business and the consumer are getting what they pay for - that they're getting a true measure of fuel," Reifschneider said.
Each pump is held to a very small margin of error.
"I'm testing on a five-gallon test measure, so it's a really small tolerance," said Reifschneider.
Sometimes, pump calibrations are off. When the do not pump an accurate measure, the pump is marked as "out of tolerance" and must be repaired by a state licensed, certified technician before it can be put back into service.
Pumps aren't found to be out of tolerance as often as one may think, but drivers still wonder.
"I'm sure it's never toward our advantage," said driver Clint Kelly of Lake of the Ozarks, Missouri. "I'm sure it's never calibrated in the wrong direction."
Reifschneider said sometimes pumps do err in the driver's favor.
"It's about half and half," said Reifschneider. "Just wear and tear on the device, it starts drifting over, and the customer's getting a little more."
Illinois inspectors' statewide results are compiled in a weights and measures report that is available online. We have posted an abridged version with only our southern Illinois counties here.
Of the four, 196 gas pumps in 15 southern Illinois counties inspectors found only 57 pumps which were out of tolerance. Twenty-seven pumps dispensed less than a true measure. Thirty pumps dispensed more than customers paid for.
Fifty-one pumps were rejected outright for various reasons and were not certified. When those 51 pumps are added to the 57 out of tolerance pumps, the numbers reveal that of 4,196 pumps only 108 or 2.5 percent were out of tolerance. The remaining 4,088 pumps measured dead on.
"I think these yearly surprise inspections in Illinois keep the business on their toes and let the consumers know the state is out there making sure everybody gets a fair deal," said Reifschneider.
In Missouri, weights and measures inspectors test each pump twice a year.
"We have a very low rejection rate in the state of Missouri," said program director John Albert with the Missouri Department of Agriculture Weights, Measures, and Consumer Protection Division. "It's about 1.8 percent. It remains that pretty consistently under two percent which is the lowest in the nation."
According to Albert, Missouri is the only state in the nation to test pumps every six months. He said his inspectors aren't just looking for gas pumps which might skim a little off the top, but also credit card skimmers that can take consumers for everything they've got.
"We do get more complaints about those [card skimmers] today than pump measurements," said Albert. "We've found a good number of those throughout the state."
Albert said scammers have found ways to get keys to gas pumps. In a matter of seconds, they can install a skimmer that can drain a driver's bank account almost as fast as they can fill up.
"Most of these that we find are on the outside island, furthest away from the facility where they're not well illumined and the camera might not see it," said Albert.
Albert says skimmer technology has gotten so good that there is nothing visibly suspicious outside the pump. However, Albert said there is one thing you can look for to protect yourself. He said look for the sticker seal on the pump. Many gas stations seal their pumps with red stickers, and Albert said if that seal is broken alert the attendant and don't scan your credit card.
"That would be your first indicator that someone has been in that cabinet," said Albert. "That's a proprietary seal by the business and they do it themselves, so they can walk around and make sure no one has tampered with it."
Copyright 2019 KFVS. All rights reserved.