Bevin spends little time on pensions in State of Commonwealth, focuses on achievements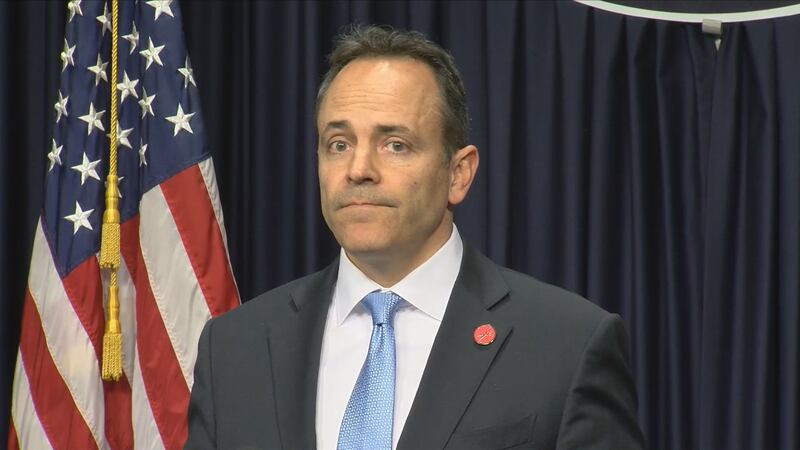 Updated: Feb. 7, 2019 at 9:44 PM CST
FRANKFORT, KY (WAVE) - Kentucky Gov. Matt Bevin made his case for re-election in his State of the Commonwealth address at the Kentucky House of Representatives chamber Thursday night.
Bevin, a Republican, announced last week that he'll seek re-election in November, adding that he's trading Lt. Gov. Jenean Hampton for a new running mate, Sen. Ralph Alvarado, (R-District 28).
In his fourth State of the Commonwealth address, Bevin discussed his achievements while in office.
"The state of the Commonwealth is strong, very strong," Bevin said to applause from the Republican majority House and Senate.
Bevin touted economic success, saying $17.7 billion in new capital investments and around 50,000 jobs have been created under his watch.
He also discussed tax reforms he once vetoed, but were overridden by the legislature -- that he said made Kentucky more competitive.
"No matter whether he vetoed it or not -- the end result is a good result for the state," Senate President Robert Stivers (R-District 25) said.
Bevin only briefly touched on the state's pension crisis, a topic which many expected to hear more about in his address.
"I applaud the bipartisan approach you all are taking even now," Bevin said.
House leader Rocky Adkins (D-District 99), who has filed to run for governor against Bevin, didn't buy the governor's words.
"How he can hold a straight face, when he talks about the pension system and how he's put more money in," Adkins said.
Among the topics Bevin spent more time on were cutting red tape and deregulating the state, as well as points of agreement between each party, like school safety -- and the Marshall County shooting.
He also discussed the deaths of Seven Bridges, the Louisville child who was reported to have committed suicide, and Louisville Metro Police Det. Deidre Mengedoht.
While Republican leaders gave Bevin praise, Democrats criticized him for not laying out an agenda to be discussed and scrutinized.
"I would think in an election year you would want to tell people what you want to accomplish instead of what's already been done," Sen. Morgan McGarvey (D-District 19) said. "So, there was no vision tonight. I wish there had been."
Watch the full address in the video below:
Copyright 2019 WAVE 3 News. All rights reserved.