11/27/18: A letter to Santa from SEMO Fans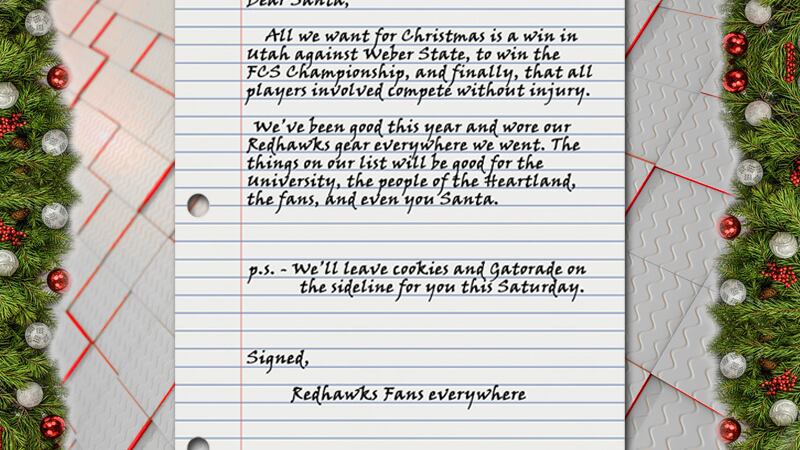 Updated: Nov. 27, 2018 at 3:15 PM CST
Way to go Redhawks! The SEMO football team is heading to Utah this Saturday, December 1, to take on #2 Ranked Weber State in the FCS Playoffs. It's an incredible accomplishment for the entire team and for head coach Tom "Tuke" Matukewicz
Last weekend's game had many firsts for the Redhawks. The first playoff win in team history. The first playoff game held at historic Houck Stadium since it was built in 1930.
During the radio broadcast, the voice of the Redhawks, Erik Sean, referred to quarterback Daniel Santacaterina by his nickname, "Santa."
It's a fitting name considering that "Santa" brought his team from a 14 point halftime deficit to a 28-14 victory in one of the most impressive second half offensive and defensive performances in college football.
This time of the year, children of all ages are waiting to see what "Santa" brings and a letter to him would sound like this:
"Dear Santa, all we want for Christmas is a win in Utah against Weber State, to win the FCS Championship, and finally, that all players involved compete without injury. We've been good this year and wore our Redhawks gear everywhere we went. The things on our list will be good for the University, the people of the Heartland, the fans and even you Santa.
P.S. We'll leave cookies and Gatorade on the sideline for you this Saturday.
Signed, Redhawks Fans everywhere."
Let's get into the SEMO spirit. Let's support our Redhawks and hope that "Santa-Caterina" can lead a talented and driven team to a win this Saturday.
Supporting the Southeast Missouri State Redhawks Football team and celebrating their success will help build the program and make this a better Heartland.
This is just one of many opinions. If you'd like to comment we want to hear from you. Use the e-mail or mailing address below to submit your comments. Be sure to include your name and hometown in case we use your comment on the air.
A Better Heartland/KFVS
310 Broadway
Cape Girardeau, MO 63701